Penn Professor Diana C. Mutz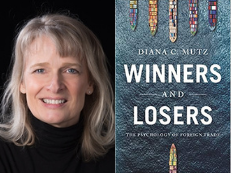 University of Pennsylvania Prof. 
Diana C. Mutz
 joins NYU Stern's Steven Altman for a virtual "fireside chat" to share insights and answer questions from her new book 
Winners and Losers: The Psychology of Foreign Trade
. Prof Mutz's research challenges conventional wisdom about what drives public opinion on international trade. She identifies powerful psychological factors that shape trade policy preferences and illuminates how an understanding of these underpinnings of public opinion can lead to lasting economic and societal benefits.
Prof. Mutz is the Samuel A. Stouffer Professor of Political Science and Communication and Director of the Institute for the Study of Citizens and Politics at the University of Pennsylvania. She holds a Ph.D. from Stanford University and received the Lifetime Career Achievement Award in Political Communication in 2011 from the American Political Science Association. In 2021, Prof. Mutz was elected to the National Academy of Sciences.
Watch the Recording