Team

Professor Pankaj Ghemawat
Global Professor of Management and Strategy
Director of the Center for the Globalization of Education and Management
Pankaj Ghemawat joined New York University Stern School of Business in September 2014 as Global Professor of Management and Strategy in Stern's Management & Organizations Department. Professor Ghemawat has been appointed by Stern to lead a new center, the Center for the Globalization of Education and Management, to drive scholarship and pedagogy on the business implications of globalization. He is also the Anselmo Rubiralta Professor of Global Strategy at IESE Business School.
Professor Ghemawat has written six books and more than 100 research articles and case studies on global business strategy and is one of the world's best-selling authors of teaching cases. He also compiles an annual globalization index that looks at the connectivity of more than 130 countries with the rest of the world in terms of trade, capital, information and people flows.
Professor Ghemawat is a fellow of the Academy of International Business and of the Strategic Management Society. His most recent book, World 3.0 (2011, Harvard Business Review Press), reexamines beliefs about markets and globalization, praising market integration while addressing its potential negative ramifications against the goal of increasing prosperity. World 3.0 won the 50 Thinkers Book Award for the best business book published in 2010-2011, the Axiom Business Book Gold Award in the International Business/Globalization category and the IESE Alumni Research Excellence Award. And in August 2014, he received the Eminent Scholar award of the International Management Division of the Academy of Management.
From 1983 to 2008, Professor Ghemawat was on the faculty of Harvard Business School, becoming the youngest person in the school's history to be appointed a full professor, in 1991. Ghemawat was also the youngest "guru" included in the guide to the greatest management thinkers of all time, published in 2008 by The Economist. Since 2006, he has been on the faculty of IESE.
Professor Ghemawat earned both his B.S. in Applied Mathematics and his Ph.D. in Business Economics from Harvard University.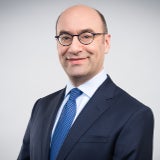 Steven A. Altman
Senior Research Scholar
Executive Director of the Center for the Globalization of Education and Management
Steven A. Altman is a Senior Research Scholar and Executive Director of the Center for the Globalization of Education and Management at the NYU Stern School of Business. He holds an MBA with distinction from the Harvard Business School, an MPA from Harvard's John F. Kennedy School of Government, and a B.S. in Economics summa cum laude from the Wharton School of Business at the University of Pennsylvania.
Mr. Altman's research focuses on understanding the patterns of international flows of goods and services, capital, information, and people, how cross-country differences and distances shape those flows, and their implications for business, education, and society at large. He has managed the development of a variety of teaching and decision-making tools based on that research, and is the co-author of a detailed country-by-country examination of globalization, the DHL Global Connectedness Index, the most recent edition of which was released in November 2016.
Prior to joining NYU Stern, Mr. Altman was a Senior Research Associate and Lecturer at IESE Business School in Barcelona, Spain. Mr. Altman also brings to his academic work more than ten years of experience as a management consultant. He has assisted clients with international and emerging market strategies across a variety of industries and geographic regions.


Phillip Bastian
Associate Research Scholar
Phillip Bastian joined the team at the Center for the Globalization of Education and Management as an Associate Research Scholar in February 2015. His research interests include international economic policy, data science, economic measurement and visualization tools.
Prior to his appointment at Stern, he was a freelance economic and statistical consultant. His clients included the United Nations Secretariat and several of its agencies, the World Bank and the Economist Intelligence Unit. Mr. Bastian began his career as an economist at the United States Bureau of Labor Statistics, where he researched trends in occupations and industries within the U.S. economy and their influence on future employment.
Mr. Bastian holds a Master of International Affairs from Columbia University with a specialization in international finance and economic policy. He also holds B.A. in economics, German studies and international studies from Pacific University of Oregon and studied as a Fulbright scholar at the University of Cologne in Germany.

Alejandro Ruelas-Gossi
Visiting Research Professor (2015-2016)
Professor Ruelas-Gossi has written several articles for Harvard Business School Publishing with a worldwide impact, which have been cited extensively and reprinted in several languages. His article "The Big T Paradigm" was selected as the one with the greatest impact on Latin America in 5 years. The Financial Times has also singled out and published his work in the specialized section: MASTERING SERIES. Expansion Magazine (a subsidiary of TIME), in its December 2005 edition, featured Professor Ruelas-Gossi's work together with Porter's, Drucker's, Prahalad's, Hamel's and Christensen's contributions as the most influential in the field of business strategy. And in 2007, his November 2006 article, "Strategy Orchestration," was selected as the most recommended article in Harvard Business Review Latin America. HBR.org publishes his contributions of Latin American trending topics.
Professor Ruelas-Gossi has also served as a consultant and speaker for several of the Fortune 500, including Sony, Motorola, Microsoft, Bristol-Myers, IBM, Philips, Caterpillar, Cemex, Baxter, Ernst & Young, Aon, Techint, AT&T, and Abbott. Before joining the academic world, Professor Ruelas-Gossi was a senior executive with Cemex and John Deere. He was also the founding Managing Director of the think-tank Orkestra (named after his concept of orchestration) – The Basque Institute of Competitiveness, in the Basque Country - Spain. At the NYU Center for the Globalization of Education and Management, Professor Ruelas-Gossi will focus on Latin America, particularly the evolution and patterns of "Multilatinas".
Professor Ruelas-Gossi holds a B.S. in Industrial Engineering & Systems Dynamics from Monterrey Tech, a Master of Science in the Management of Technology from The Massachusetts Institute of Technology MIT, and a Ph.D. in Strategy from The University of North Carolina-Chapel Hill.