Sponsor:
Bloomberg L.P.
Media Partner:
Harvard Business Review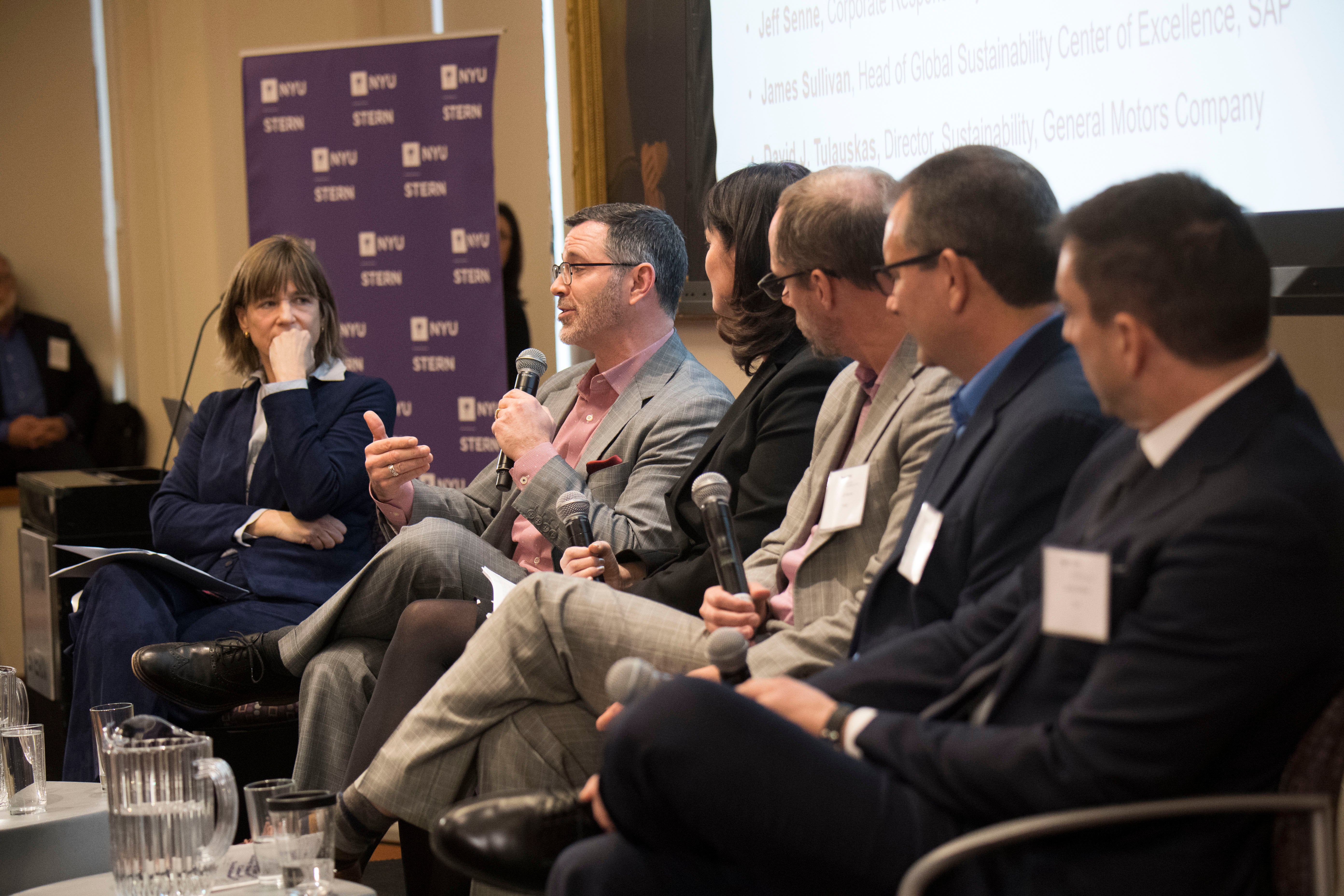 In March 2018, the NYU Stern Center for Sustainable Business hosted its first annual Practice Forum, sponsored by Bloomberg and Harvard Business Review, on the financial case for sustainability.
Over the two-day event, the NYU Stern CSB hosted more than 160 stakeholders, including leading academics, investors, corporate sustainability executives, and non-profit leaders on the business case for sustainability. A key part of the forum agenda was providing attendees practical lessons on how to quantify and monetize investments in sustainability. In support of this aim, the event including three industry specific workshops, one each focused on Retail, Manufacturing and Consumer Goods industries. In these parallel working sessions, members of the CSB team led 25-35 event participants in deeper working sessions, leveraging the CSB monetization methodology, to document how a company would move from qualitatively describing the costs and benefits associated with a specific investment in sustainability to monetizing the financial impact of that investment. Videos of the event can be found below:
An overview of the NYU Stern CSB's methodology for quantifying sustainability investments:
One-on-one interviews with Barry Parkin and Andrew Liveris:
"Mars Investing $1 Billion in Sustainability: What is the Payback?"
Adi Ignatius, Editor-in-Chief, Harvard Business Review
Barry Parkin, Chief Sustainability Officier, Mars
"The ROI on Sustainability for Dow Chemical"
Emily Chasan, Sustainable Finance Editor, Bloomberg News
Andrew Liveris, Chairman and CEO, The Dow Chemical Co., and Executive Chairman, DowDuPont
Panel discussions on how individual companies have built the business case for sustainability and how investors are looking to better understand the causal relationships between sustainability and financial performance within a company:
"Business Case in Action: Discussion Regarding the Analysis of the ROI of Sustainabilty"
Tensie Whelan, NYU Stern CSB (Moderator)
Jim Bath, Director, Global Environmental Services, Kimberly-Clark
Maureen Kline, Vice President, Public Affairs and Sustainability, Pirelli Tire North America
Jeff Senne, Corporate Responsibility Strategy and Implementation Leader, PwC
James Sullivan, Head of Global Sustainability Center of Excellence, SAP
David Tulauskas, Director, Sustainability, General Motors Company
"Sustainable Investing: Moving from Correlation to Causality"
Robert Eccles, Professor, University of Oxford (Moderator)
Jerome Dodson, Founder and Chair of Parnassus Investments
Amisha Perekh, Senior Project Strategist, Sustainable Finance, Bloomberg LP
Charles Penner, Partner and Chief Legal Officier, Jana Partners LLC
Jackie Roberts, Chief Sustainability Officier, The Carlyle Group
Meg Starr, Vice President Asset Management, Goldman Sachs
A discussion of how companies manage for total societal impact:
Douglas Beal, Director, Social Impact, The Boston Consulting Group
The full agenda with speaker bios is available
here
.
At the 2018 Practice Forum, the NYU Stern CSB unveiled its Sustainability Monetization Framework methodology which you can learn more about
here
.
We're proud to have hosted the Second Annual Practice Forum in 2019. Read more about that event
here
.