Sustainability Career Boot Camp
Tools, tactics and techniques to navigate your career path in sustainability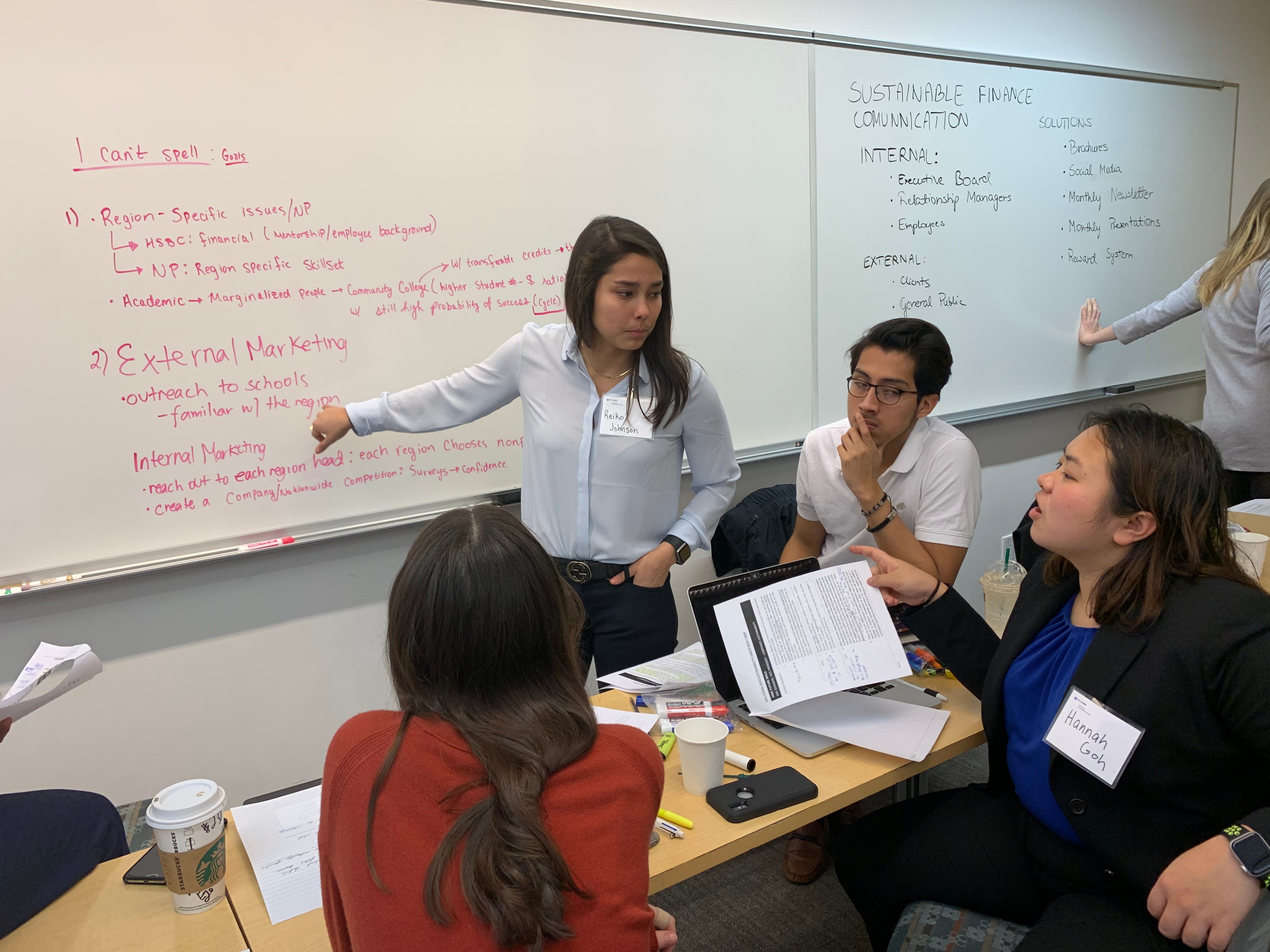 All future business leaders must understand the complexities of managing in an increasingly resource constrained world, and as such, we believe that all NYU Stern students should graduate with an understanding of the key skills, frameworks and tools to integrate sustainability into any position and industry they enter. In order to equip NYU Stern undergraduate students with the skills necessary to be leaders in sustainable business, we are pleased to host our annual Sustainability Career Boot Camp.
The annual Sustainability Career Boot Camp, hosted by the NYU Stern Center for Sustainable Business, provides Stern undergraduate students with an intensive training program to prepare them for a variety of sustainability-oriented careers.
The students will learn concepts such as applying a sustainability lens to problem solving, developing sustainability strategies, understanding key tools and frameworks related to sustainability, and exploring different career paths in the sustainability field.
---

2020 Sustainability Career Boot Camp with HSBC
Apply at this link by February 7th, 2020
Programming Includes:
Session on Careers in Sustainability: Students will learn what different career paths in sustainability may look like and how sustainability applies across industries. We will also walk through various career development topics, such as in-person and online networking, how to search for jobs, resume optimization, and related in- and out-of-classroom opportunities at Stern.
HSBC Career Panel: HSBC representatives will speak to elements of sustainability and ESG throughout the firm, such as green bonds, ESG integration in the asset management division, renewable energy financing work, and corporate sustainability. A representative from HSBC Human Resources will speak to opportunities for undergraduate students and the recruitment process.
World Climate and World Energy Simulation: HSBC representatives from its Corporate Sustainability team will walk students through a climate simulation, followed by report-outs from students and discussion of applications for HSBC's business lines.
Breakfast, lunch, and snacks will be served.
Learn answers to questions like:
What is a career in sustainable business? What jobs should I look for and where do I look? How can I develop relevant skills at Stern? How can I start networking now?
Representing HSBC Departments:
Corporate Sustainability
Employee Engagement
Human Resources
Investment Strategy
Philanthropy and Family Governance
Supplier Engagement and Supply Chain Financing
Apply at this link by February 7th, 2020
Date and Time:
Friday, February 21, 2020 | 8:30AM - 5:30PM
Location:
Tisch UC, Room TBA
Deadline to Apply
: February 7th, 2020
Note:
Open to Stern undergraduate students only.
Questions?
Email
sustainablebusiness@stern.nyu.edu
.