Mission & Strategy
NYU Stern Center for Sustainable Business envisions a better world through better business.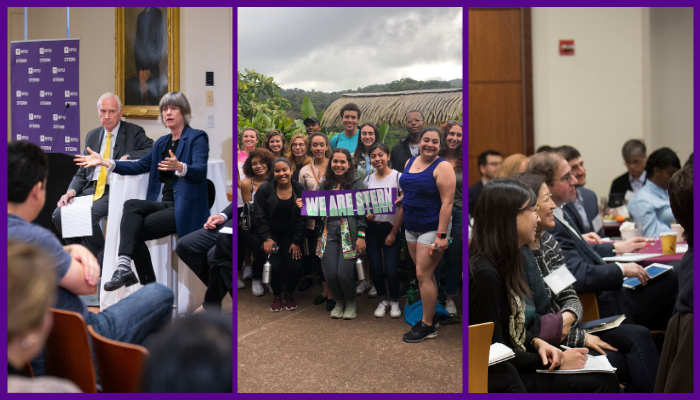 The NYU Stern Center for Sustainable Business (CSB) is a trusted partner for future and current business leaders who want to drive change and redesign capitalism to sustain both business and society for generations to come. At a time when people and the planet need it most, the Center for Sustainable Business is proving the value of sustainability for business management and performance.
Our Mission
Our mission is to prepare individuals and organizations with the knowledge, skills, and tools needed to embed social and environmental sustainability into core business strategy. In doing so, businesses reduce risk; create competitive advantage; develop innovative services, products, and processes; while improving financial performance and creating value for society.
Our Strategy
The NYU Stern Center for Sustainable Business implements its mission through:
Education, Research, and Engagement
Innovation in Education:
Prepares Stern students to contribute value to business and society through co-curricular and experiential learning opportunities
Incorporates sustainability-focused curriculum into the existing undergraduate, graduate, and executive degree programs
Provides career development and networking opportunities for students as they navigate career paths related to sustainable business
Insights and Research:
Leverages our ROSI™ Methodology to reveal that embedding sustainability into core business strategy benefits all areas of corporate metrics
Conducts and disseminates original research targeted at improving business management and performance while addressing societal challenges
Develops the knowledge and tools needed to monetize the financial return on sustainability investments, or ROSI™
Influence and Engagement:
Partners with a growing network of professionals, investors, alumni, media partners and academics on corporate strategy and academic research initiatives
Publishes research-based and editorial content in business media, academic journals and mass media
Hosts regular multi-stakeholder events, conferences, and workshops for students and professionals

CSB Annual Reports
Each year, CSB publishes an Annual Report to share the progress made in pursuit of our mission. To view past reports,
click here.