Management & Organizations Department
The Management Department encompasses four areas of study: Organizational Behavior (OB), Organizational Theory (OT), Strategy, and Entrepreneurship.
– Departmental Values
We value both disciplinary-based and interdisciplinary training and research.
We value interdisciplinary curiosity about organizations and willingness to learn about and contribute to areas of management outside one's core area of expertise.
We value, and seek to create, a culture of respect for different perspectives and opinions.
We believe that managers can and do affect the strategic direction of firms and we are interested in a better understanding of issues related to strategic management.
We believe it is important to consider the role of the organizational context in affecting behavior in, of, and among organizations.
We share an interest in understanding the dynamics of organizational processes.
Featured Faculty: Dolly Chugh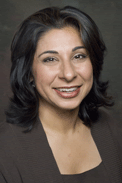 "We've all grown up in a culture with media images, news images, conversations at home, and education. Think of that as a fog for our whole life."
Are we unconsciously biased? Professor
D
olly Chugh
recently appeared in The New York Times "Who, Me? Biased?" video segment that speaks on implicit bias, or the bias in judgement and/or behavior that results from subtle cognitive processes.
Click
here
to view more.
Contact Us
Tisch Hall, 7th Floor
40 West Fourth Street
New York, NY 10012
Phone: 212-998-0200
Fax: 212-995-4235
Email:
esherman@stern.nyu.edu
Annoucements
Prof. Melissa Schilling's new book, "Quirky," highlighted as one of the best business books of the month.
Prof. Rob Salomon named faculty director for the Executive MBA programs in conjunction with a new opening in Washington, D.C. Learn more.
Faculty in the News
Research Scholar Elad Sherf's new paper on the expression of work-related suggestions or opinions in a team context
Prof. Robert Salomon shares his views on trade negotiations with China.
Prof. Sonia Marciano shares her views on the proposed "right to disconnect" bill.
Prof. Melissa Schilling explains why Elon Musk's idealism shouldn't discourage Tesla investors.
Prof. J.P. Eggers discusses the potential regulation of Facebook.
Prof. Robert Seamans comments on Facebook's response to the Cambridge Analytica scandal.
Follow @SternMgmt
More Management News
Faculty Awards & Appointments
Melissa Schilling & Madeline King, have been named finalists for the SMS Best Paper Prize for their work with co-author, Barak Aharonson.
Lisa Leslie & co-authors awarded the "Most Influential Paper Award" by the Conflict Management Division for their paper, Differences between tight and loose cultures: A 33-nation study.
Elad Sherf awarded the Academy of Management's 2017 "Best Reviewer Award" in both the CM & OB division.
William Guth awarded the "Chris Argyris Lifetime Acheivement Award" by the Practice Theme Committee of AOM.
Jason Greenberg & co-author, Ethan Mollick, awarded the 2017 "Outstanding Publication in OB" award for their paper, Activist Choice Homophily and the Crowdfunding of Female Founders.
Rob Salomon's: Global Vision recently named in "Best Business Books of 2016" (Strategy + Business Magazine)
Gino Cattani is now Deputy Senior Editor for Organization Science.
Lisa Leslie receives Reviewer of the Year Award from the Journal of Business and Psychology.
Sinziana Dorobantu awarded Dale E. Zand Best Paper Award in Management.
Melissa Schilling appointed to the American Antitrust Institute Advisory Board.