In Memory of Bill Guth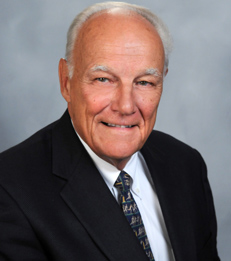 Dear Friends and Colleagues,

It is with great sadness that we share with you the news that William (Bill) D. Guth, Professor Emeritus of Management & Organizations, passed away on Wednesday, February 21, 2018. Professor Guth was a colleague known by many of us at Stern. He had a long and full career as a respected scholar, great teacher, beloved mentor, and valued colleague.

After receiving his doctorate from Harvard Business School, Professor Guth worked as a professor at HBS and then at Columbia's Graduate School of Business prior to joining Stern in 1972. He served as chairman of Stern's Management Department from 1978 to 1989. From 1989 to 1994 he was Director of the Center for Entrepreneurial Studies and the Harold Price Professor of Entrepreneurship and Strategy. Professor Guth retired in 2002 but even in retirement he remained deeply engaged with his colleagues and students through his role as Coordinator of the International Study Program, a position he held from 2004 until now.

Several months ago, Stern's Department of Management & Organizations convened a special reception and seminar to celebrate Professor Guth as he was recognized by the Academy of Management with the prestigious Chris Argyris Lifetime Achievement Award. At that time, his colleagues reflected on Professor Guth's essential contributions to the founding of the modern academic field of strategy.

Professor Guth regularly published his research in the fields of strategic management and entrepreneurship in such journals as Strategic Management Journal, Journal of Business Venturing and Academy of Management Review. He served on several editorial boards of management journals, and coauthored the groundbreaking book on strategy, Business Policy: Text and Cases. Professor Guth was the founding Chair of the Division of Business Policy and Strategy, within the Academy of Management. He was a Fellow of the Academy of Management, a Fellow of the Strategic Management Society, and is listed in Who's Who in America as well as Who's Who in the World.

Professor Guth taught in executive education programs not just at NYU but also at Harvard, Northwestern, Dartmouth, Columbia and Duke. He also taught in advanced management programs in more than 15 countries. He was a consultant to many American and foreign firms including AT&T, General Electric, IBM, General Foods, Securities Pacific, E.F. Hutton, Merrill Lynch, ICI Ltd., Unilever and Union Carbide.

Commemoration Details
Thursday, June 21st, 2018
Time: 3 pm
Gardner Commons
Kaufman Management Center
Stern School of Business
44 W 4th St
New York, NY, 10012