Executive in Residence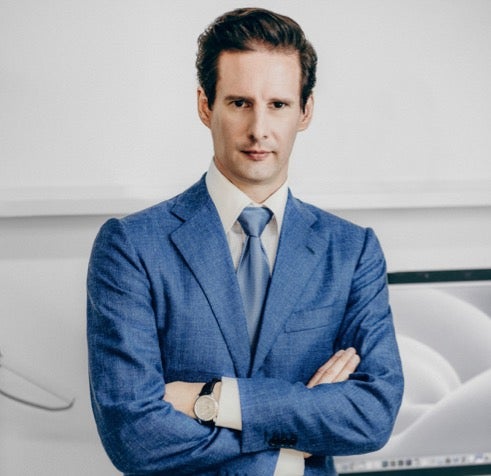 Sebastian joined New York University's Stern School of Business as an Executive-in-Residence in the Management & Organizations Department in September 2018. He is also currently a Partner at Strategy& (formerly Booz&Company (formerly Booz Allen Hamilton)). He advises executive management teams of Fortune 1000 companies and cutting-edge startups in developing growth strategies and assists them in building the necessary capabilities to deliver those strategies in an increasingly digital ecosystem. His clients include public and private corporations, private equity funds and fund-owned portfolio companies.
After completing a BFA in professional photographic illustration from the Rochester Institute of Technology in the United States, Sebastian began his career as a fashion photographer in London, where he worked for various publications and was a member of the AoP (Association of Photographers).Through his work in London's creative field, Sebastian developed the idea for photonity.com, an internet startup that provided a workflow management tool for advertising agencies as an application service provider (ASP), and which he and two co-founders launched in Germany in 1999. After the contraction of global equity capital markets in 2001, photonity.com was liquidated in 2003, and Sebastian returned to New York to pursue an MBA in Management and Finance at the Stern School of Business at New York University.
Following an internship at Booz Allen Hamilton in 2004, Sebastian decided to join the firm full time, and he began his consulting career as an Associate in Booz Allen's WCB (Worldwide Commercial Business) upon completing his MBA degree in 2005. Sebastian was initially based in Booz's Munich office, where most of his engagements were with European or international clients centered in developed markets such as Germany, France, the United Kingdom, Ireland, the Netherlands, Belgium, Luxemburg, and the Nordics, as well as emerging markets like Russia, Turkey, Lebanon, Israel and Egypt. In 2013, Sebastian decided to return to the United States and transferred to Booz's New York office.
Sebastian's work centers on driving digital growth and efficiency with a focus on three pillars:
TMT clients: Work with clients in technology, media and telecommunication, including digital natives, developing growth strategies, business models and monetization strategies, strategy-driven digital capabilities and operating models
Capability building cross-industry: Strategy-driven capability building in TMT and export of know-how from TMT clients and digital natives to other industries seeking to increase the value they draw from an increasingly digital ecosystem (e.g., consumer-, retail- and transport clients), focused on three areas:
- Develop capabilities enabling a digital customer experience that can successfully compete with new and traditional market rivals in increasingly digital ecosystems
- Strategy development to attract new customers/audiences and build them into "fans"
- Devise methods to transition from products to services (or augment services to existing product portfolios) and develop corresponding monetization- and revenue models
- Digital product/service development with rapid innovation cycles and scalability
- Next generation marketing, sales and service capabilities (e.g., digital marketing ROI, digital pricing & discounting, interface to R&D)
- Use of data and analytics to drive profitable growth
3. Funds and portfolio companies: work with investors and portfolio companies to drive profitable digital growth and efficiencies using the available tools in an investment context

Sebastian has co-authored numerous articles on the future of the TMT industry, including: "The rise of generation C: implications for the world of 2020" (2010); "Making digital content pay: the billion-dollar question for publishers" (2010); "Create your own buzz: the promise and practice of digital marketing" (2013), "The rise of multichannel networks: critical capabilities for the new digital video ecosystem" (2014).

In 2005, Sebastian received Booz Allen Hamilton's Professional Excellence Award, the firm's highest professional honor. In 2011, Sebastian was recognized as a "Global Young Leader" by the Berlin-based Atlantik-Brücke Foundation.