Alana T. D'Alfonso, MBA '17
Armando John Garville Scholarship
Hometown: Philadelphia, PA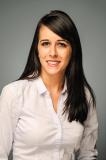 I was born and raised outside of Philadelphia, the city which all my extended family calls home. I graduated from my local public high school and matriculated at Princeton University in 2007, becoming the first person in my family to attend college. While at Princeton, I was actively involved in hospital volunteering, student health advising, tutoring, and neuroscience research. I graduated from Princeton summa cum laude in 2011 with a major in Psychology, concentration in Neuroscience and minor in Global Health and Health Policy. At graduation, I was awarded two prizes for my thesis research on visual cortex neuroplasticity within the congenitally blind, research which I later presented at the Society for Neuroscience Conference. Influenced by my thesis research experience, I participated in the NIH Intramural Research Training Award Fellowship for a year post-graduation. While at the NIH, I conducted neuroimaging research with refractory temporal lobe epilepsy patients who were uninsured and seeking neurosurgical treatment.
In 2012, I started at NYU School of Medicine (NYUSOM). While at NYUSOM, I have participated in the Health Disparities Research Fellowship within the NYU/Bellevue Program for Survivors of Torture. In 2014, I made the decision to pursue my MBA at Stern as part of a dual degree MD/MBA program. While at Stern, I chose to specialize in Management of Technology and Operations and have participated in various student groups, including the Stern Healthcare Association, the Management Consulting Association and the Entrepreneurs Exchange Club. The classes at Stern have been incredible and have added a completely new dimension to my knowledge set. After my graduation this spring, I do not plan to practice as a physician, but rather pursue a career combining business and medicine. My overall career goal is to improve our healthcare system, providing care that is more cost efficient, medically effective and available to all.
Thank you for this scholarship. I am a first generation college student from a modest background and scholarships such as this one give me the opportunity to pursue further education.