Anastasia Usova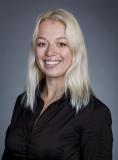 E-mail:
ausova@stern.nyu.edu
Phone:
212-998-0234
​
Biography
Anastasia Usova joined the PhD program in Management at New York University Stern School of Business in 2017. She is broadly interested in the effect of innovative technology on individuals and teams in organizations. Anastasia is also keen to investigate the tension between how an individual sees themselves and how the world sees them.
Anastasia was a recipient of the Congress-Bundestag Youth Exchange fellowship in Germany. She graduated with a Master of Science in Communication and a Bachelor of Arts degree with a double major in Sociology and Legal Studies from Northwestern University. Her professional experience cuts across several industries, including finance, consulting, education, and management. Most recently, Anastasia worked as a research coordinator for Professor Adam Galinsky at Columbia Business School.
Academic Background
MS, Communication
Northwestern University
BA, Sociology & Legal Studies
Northwestern University
Publications
Lu, J.G., Martin, A.E., Usova, A., & Galinsky, A.D. (In press). Creativity and humor across cultures: Where Aha meets Haha. In S.R. Luria, J. Baer, & J.C. Kaufman (Eds.). Creativity and humor. San Diego, CA: Academic Press.
Gündemir, S., Homan, A. C., Usova, A., & Galinsky, A. D. (2017). Multicultural meritocracy: The synergistic benefits of valuing diversity and merit. Journal of Experimental Social Psychology, 73, 34-41.