Stephanie Noyes, MBA '18
Military Veterans Scholarship
Hometown: Charleston, IL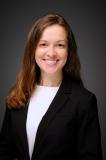 When applying to MBA programs after resigning from the Army I was struggling with the decision of whether to enroll in a part time or full time MBA program. I didn't want to finish the program with a pile of debt so I hesitated on committing to a full time MBA program even though that was my preference. When I received my admissions letter from NYU with a Veterans Scholarship, it made my decision easy. I am able to completely focus on school without worrying about debt piling up.
My experience at NYU Stern has been nothing short of extraordinary. I am partnered with a great study group as I hone my business acumen and the faculty and administration do everything in their power to ensure we are set up for success. On the other side, I have had an opportunity to share my experience as an Army Signal Officer with my peers, many of whom have never known someone from the military. I was recently a speaker during a Veterans Week presentation and awed by the support from our student body and genuine curiosity as they heard first-hand what deployment is like and the day-to- day work of a Soldier.
I am now applying for summer internships with the goal of going into impact consulting. I look forward to an opportunity to combine my passion for service with my leadership experience and new MBA knowledge. After hearing stories of many of my peers struggling with their transition to the civilian world, I feel blessed to have the supportive environment of NYU Stern guiding me through the process. I know I will graduate ready to face the unique challenges of the business world and without the stress of large school loans.