Aurelio Yrigoyen, MBA 2022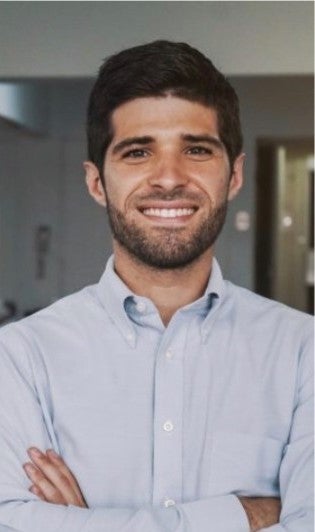 Hometown
Lima, Peru
Undergraduate Institution
Universidad del Pacifico
Pre-MBA Employer
Cocina Lab, Founder
Post-MBA Employer
Wayfair
Specializations
Management of Technology & Operations
Student Clubs
Management Consulting Association
Entrepreneurship & Startup Association
Emerging Markets Association
Stern Technology Association
What is a spot in NYC that is special to you?
Hudson River Waterfront Walkway, Washington Square Park, Comedy Clubs, Central Park, Tribeca - to name a few!
What was your favorite class at Stern?
Endless Frontier Labs was a great experience, and I also loved my Emerging Technologies and Business Innovation class.
How would you describe the culture and community within your Andre Koo Tech MBA cohort?
Collaborative, diverse and curious. Everyone was ambitious, but focused on collaboration as the core of innovation and growth. The program attracted people with different backgrounds, some with a lot of tech savvy, others with more business knowledge, some generalists, and some specialists. This diversity helped everybody to grow and continuously learn. We all knew we wanted to disrupt industries, and the best way of doing it was to be imaginative and collaborative. 
What was a highlight from one of your Stern Solutions courses?
I really valued learning about the challenges of starting and growing businesses in real life. The struggle to help growing companies find capital, clients and product market fit is what forces an entrepreneur to connect the dots, be resourceful and learn. 
Tell us about your tech background prior to the program. How did you prepare for the program before it began?
I loved technology from a very superficial and conceptual side. I did not have any technical background. I prepared by watching very basic online courses of coding, math and data. The program is designed to use technology as a tool for real business challenges. The Andre Koo Tech MBA has helped me to understand the language of technology and be able to use it as one of the most important resources. 
Why did you choose NYU Stern and the Andre Koo Tech MBA?
I chose the Andre Koo Tech MBA because I believe that every industry is being changed in some way by technology. Understanding how technology works and, more importantly, how people interact with technology, will be the key to improving current solutions and addressing difficult issues that remain without solutions. I chose NYU Stern because of its collaborative environment, which I think is the key to growing and learning, and because it is in New York, one of the most productive and energetic places in the world!