Luc Micaelli, MBA 2022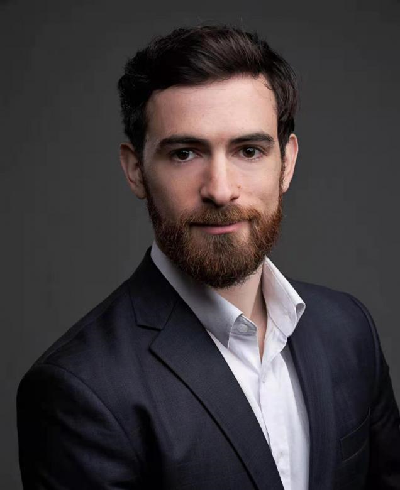 Hometown
Paris, France
Pre-MBA Employer
Overhand and HTC VIVE
Industry Focus
Fitness Technology and VR
Student Clubs
Entrepreneurship & Startup Association
Management Consulting Association
Stern Technology Association
What is a spot in NYC that is special to you?
Pier 46 on the Hudson River is a special spot for me because it is where friends and I have been working out together almost every Saturday since our program started. When we started at Stern, our orientation and class activities were all online due to the Covid-19 restrictions. I decided to start organizing workouts at the park for my classmates here in New York. The first workout was the first time many of us met in person. We have been training together regularly since then, most often at Pier 46 which gives a great view of the river, Little Island, and Jersey City.
How would you describe the culture and community within your Andre Koo Tech MBA cohort? How have you interacted with alumni from previous Andre Koo Tech MBA cohorts?
I was positively surprised to find out how nice and collaborative everyone is in my cohort. I had been worried that the atmosphere would be very competitive and the reverse is true at Stern - we're all friends, we're in this together, and we realize that everyone comes from very different backgrounds, which makes sharing skills very powerful. For instance, classmates with a technical background became mentors for us in the more technical classes, while my background as an entrepreneur helped me to contribute in more entrepreneurship focused classes. In general, I haven't been shy to ask for help given how willing my very smart classmates are to support. This is also true for alumni from previous Andre Koo Tech MBA cohorts. They've been very willing to meet with me for coffee chats or answer my questions every time I've asked, and share about their role and experience. This has been very helpful as I prepare to go into recruiting in the fall.
What was an experiential learning program in which you participated outside of the required Stern Solutions?
I am the VP of Sourcing at
InSITE
. We match a selected, highly motivated group of MBA students from top programs (Stern, Columbia, Cornell and more) with early stage startups or growth stage companies. InSITE Fellows work on semester-long consulting projects to solve interesting top-of-mind problems companies are experiencing. Examples include helping with a growth strategy, fundraising, or exploring go-to-market for a deep-tech product. Next semester we will be working with Positive Planet US, Tryndbuy, AgileDD, a new VC fund that's launching, a life sciences company, just to name a few.
What was a highlight from one of your Stern Solutions courses?
I'm currently working for 1010data exploring the impact of changes in gasoline prices on consumer spending, producer prices, and transportation. I chose to work on a more technical data project to put into practice the skills I've learned here at Stern in classes like Dealing with Data, Intro to Python and Data Science. My group is tremendous and we've had the opportunity to work with the Senior VP, the CTO, and even get feedback and recommendations from the CEO.
Tell us about your tech background prior to the program. How did you prepare for the program before it began?
The company I founded in China turned the gym into a game, offering interactive fitness experiences to gyms and hotels powered by connected wristbands. I had product experience spanning software and hardware coming to Stern and could use github but I could not write code. I was able to find this MSQM Databases for Business Analytics youtube series taught by the excellent 'Dealing with Data' Professor Ipeirotis, and watched the first few videos prior to starting the program. I then overloaded my credits during the summer semester to take a 3-credit Intro to Python class. Ultimately my non-programming classmates and I were able to pick up SQL and Python pretty quickly in the core technical courses so as to query databases comfortably, analyze data, and run predictive ML models.
Why did you choose NYU Stern and the Tech MBA?
There was a long list of reasons that made Stern the obvious choice for me. Stern had a 1-year Andre Koo Tech MBA and is a top ten program. I followed Stern professors such as Scott Galloway. I had a positive experience talking to alumni and I really liked Stern's focus on EQ in addition to IQ. The Andre Koo Tech MBA specifically jumped off of the page - I knew I wanted to keep working at the intersection of tech and business and I was excited to keep working with tech companies and startups. I favored immersive learning and working on real projects. The fact that it was a 1-year program with the same number of credits as the 2-year MBA made sense financially. A lower cost of tuition and living expenses plus lower opportunity costs given the shorter time away from the workforce. As a F1 student, the STEM designation was also a big advantage for me because it could grant me up to 3 years OPT in the US (OPT allows you to work in the US after graduation without a visa).