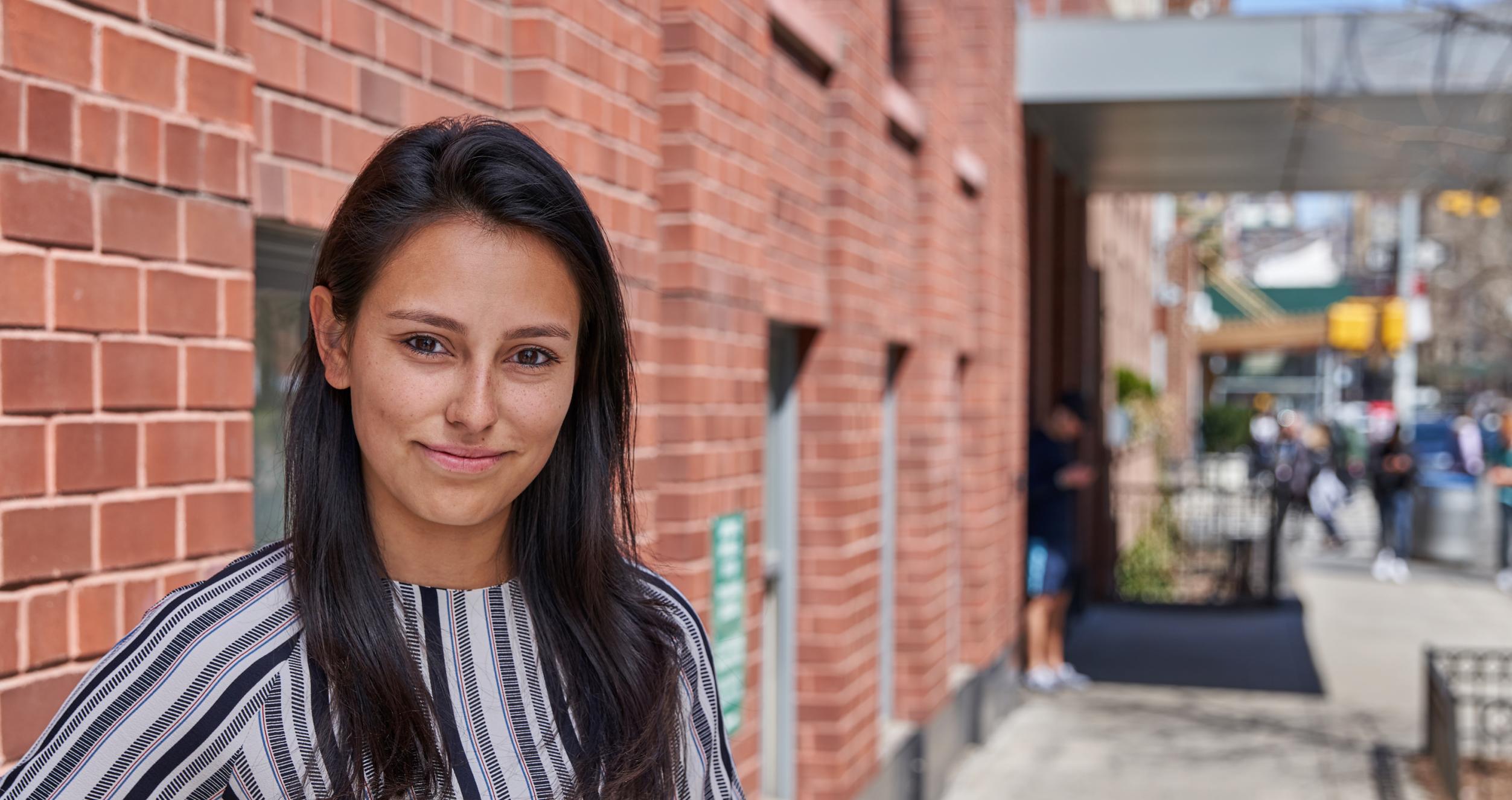 Alumni Voices
Josefa Riveros, MBA 2019
---
Hometown
West Nyack, NY
Undergraduate
School: Babson College 
Major: Business, IT Mangement
Previous Company
Security Program Manager, Veracode 
Post-MBA Company 
Product Associate, Synk
Specializations at Stern
Product Management, Strategy
Student Clubs
Association of Hispanic & Black Business Students, Focused MBA Liaison
Entrepreneurship and Startup Association
Stern Adventures
Stern Technology Association
Stern Women in Business
What is your most treasured NYC spot?
Honestly, my room in my apartment! I live on the 25th floor of a building that is right above a school in the Kips Bay area which gives me the most perfect, unobstructed view of the Empire State Building and the Metropolitan Life Clock Tower. With all the activity happening on the streets below, it's nice to be able to stop for a moment and take in the view, especially if there's a nice sunset.
What has been your favorite class at Stern?
From a hard skills perspective, Dealing with Data, Product Management, and DevOps are probably all tied. These classes were part of the Andre Koo Tech MBA core and super valuable in giving me the foundation for my pivot into product management. The Tech Solutions class we took in the fall (which was also part of our core) was also critical as it essentially served as a replacement for a summer internship. I got to work on a project that involved building out Alexa voice skills from scratch for a television news channel. It was an awesome project and every time I talked about it in job interviews, people were really impressed and always had follow up questions.

On a soft skills side, it's a tie between Leadership in Organizations and Power & Politics. Both classes teach you things that you typically have to learn on the job with a lot of trial and error. You learn a lot of valuable lessons in these classes that you can take forward for years and years down the line in your career. 
How has Stern's Office of Career Development prepared you for success?
Coming from a customer success background, I had developed many of the skills needed to pivot into product management, but my resume wasn't portraying that properly. My career coach in the office of career development was instrumental in showing me how to highlight the relevant and important skills that I had picked up in my past lives to portray to employers that I was a strong product management candidate even though I had limited experience with the role in the past. 
How have you found a sense of community and support within Stern?
Hands down my biggest support system at Stern has been my Focused MBA family. We spent countless hours together over the summer when we had Sosnoff all to ourselves. We sent way too many messages to each other on Slack and created too many custom emojis. We struggled through the madness of fall recruiting (well some of us did, the rest cheered from the sidelines). We took trips across the world together. We shared many a celebratory drink for just about any and every occasion you could think of. I'm consistently amazed by this group, not only for how bright they are, but for how willing they are to go out of their way to help each other out. I can't even imagine what this year would have been like without this group by my side. And I can't imagine what my life will be like when I don't get to see them every day.... luckily, our Slack isn't going anywhere.

While I regrettably didn't get as involved in this group as I would have liked until my final semester at Stern, the other group that means a lot to me is AHBBS. They work tirelessly on ensuring that Stern is creating the most diverse and inclusive community possible. Between diversity weekends to help prospective students build the strongest applications possible and on campus events for current students, the impact they have on the Stern community is a force that cannot be ignored. They also have the BEST energy. It's impossible to spend time with AHBBS and not end up in pain from either laughing (or dancing) harder than you thought was possible. I learned this lesson pretty quickly on a Spring Break trek organized by AHBBS and SIA that involved 50 Sternies taking on Tanzania together in what was one of the most memorable weeks of my life. 
Why did you choose NYU Stern?
When I was looking at what business schools I wanted to apply to, I was specifically focused on schools with strong technology offerings, which was surprisingly hard to find. When I came across the Andre Koo Tech MBA program, I knew immediately that it was exactly what I wanted. It was the perfect blend of Tech and Business that would provide me with a unique experience that would give me a leg up when applying to Product Management roles. 
What was an experiential learning program in which you participated?
As part of our core curriculum, we took a Tech Immersion course in the fall semester. In the absence of a summer internship, this course was really beneficial. My team was working on an Alexa voice skills project for a television news company that involved everything from developing the initial idea to prototyping our final recommendations. Whenever I've talked about this experience in interviews, I've received a lot of interest and follow up questions that allow me to highlight different skills and knowledge.