Aafiya Jamal, Tech MBA 2023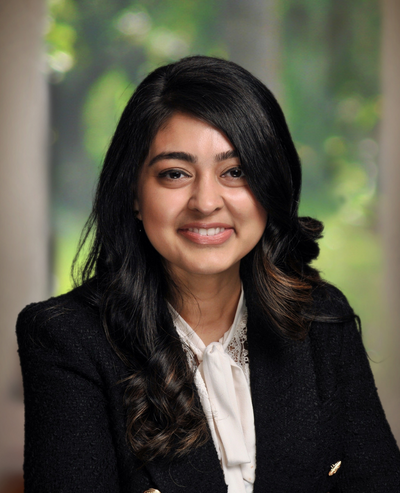 Pronouns
she/her/hers
Hometown
Dallas, Texas
Undergraduate
The University of Texas at Austin
Pre-MBA Employer
Ernst & Young - Tech Consulting
Specializations
Product Management and Management of Technology and Operations
Clubs/ Involvement
Cohort Leader for Tech MBA Class of 2023 | Stern Technology Association | Stern Women in Business | Private Equity and Venture Capital
Why did you decide to pursue the focused one-year MBA program?
I have always had a passion for higher education and wanted to go back to school to pursue my MBA, but I also knew that I had a strong, undergraduate business background and relevant work experience within business and technology consulting. Furthermore, I had a strong sense of what I wanted to get out of the MBA from a career standpoint and therefore, understood that I didn't need a two-year program as much as someone making a major career pivot or wanting to explore industry options (great things to get out of a more traditional MBA experience). NYU Stern's Andre Koo Tech MBA really stood out to me as a program for individuals keen on further pursuing a career in technology - and would enable me to achieve my career goals, gain exposure to germane topics in the industry, and enjoy many of the same experiences of a traditional, two-year program in an accelerated manner.
What was an experiential learning program in which you participated and how was your experience?
Most of our cohort is participating in the Tech Solutions course this semester, in which we are assigned a client and supporting them in solving a business problem or need using technology. I'm part of the team that is supporting a global entertainment provider, specifically in terms of analyzing their in-house, demand-side platform and determining how the company can make product improvements and feature enhancements to target new market segments for advertisement buying. It has been absolutely incredible to see the inner workings of a growing technology firm and learn about how the AdTech industry operates. This has been a wonderful experience, all thanks to having a project sponsor who is an Andre Koo Tech MBA Alum. She has constantly been so supportive of our desire to learn, gain exposure to product marketing management, and really explore an area of the business that piques our collective interest.
What was your favorite class at Stern?
My favorite class, hands down, is Digital Currency, Blockchains, and the Future of the Financial Services Industry, taught by Professor David Yermack from NYU Stern in collaboration with Professors Geoffrey Miller and Max Raskin from the NYU School of Law. I wouldn't consider myself a crypto enthusiast prior to the start of this course, but this class has certainly converted me! What I appreciate about this course in particular is the comprehensiveness of the course material by "setting the stage" with an introduction to the role of money and financial intermediaries in order to seamlessly lead us into the origins and inner workings of cryptocurrency. I also enjoyed drawing connections between many of the concepts we learned about in Dealing with Data and Networks in our more technical discussions related to mining, bringing everything full circle. I would highly recommend this course to anyone at NYU Stern!
What advice do you have for prospective students?
I would advise prospective students to deeply consider what they're specifically looking to get out of the MBA - both from a personal and professional perspective - and attending information sessions and campus tours is a great way to start the process. It's important to ask yourself how defined your career goals are (and if not, that is perfectly okay! Undertaking an MBA is all about learning about what's out there), where you want to live post-MBA (which influences where your network and future career opportunities will be), and what kind of program culture aligns with your personality (considerations can include program size, values, rural vs urban, etc). Having 1:1 conversations with current students and alumni is another great step to validate these considerations in order to solidify a set of target schools. These aren't easy questions, but engaging in this process enabled me to choose the Andre Koo Tech MBA at NYU Stern. It is one of the best decisions I have ever made.