Chris Sardone, MBA 2022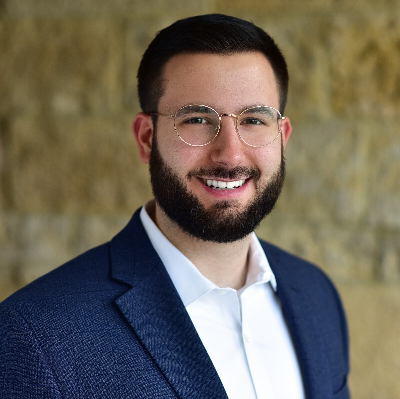 Hometown
Cherry Hill, NJ
Pre-MBA Employer
Deloitte Digital
Industry Focus
Product Management, Tech
Student Clubs
Stern Technology Association
 
What was your favorite class at Stern?
My favorite class at Stern has been Leadership with Nate Pettit, which happened to be the first class that I took at Stern. Leadership development was something that I was yearning to get out of my MBA experience and this class did not disappoint. The content of the course examined leadership from a human, social, and organizational lens, but what really set it apart were the in-class exercises and assignments designed to put the theory to practice and push us outside of our comfort zones. We learned to overcome discomfort of difficult conversations and appreciate the advents of listening to others. From the class I learned a greater appreciation for my own leadership style (where I am strong, and where I can improve) and learned the value of learning by doing.
How would you describe the culture and community within your Andre Koo Tech MBA cohort? How have you interacted with alumni from previous Andre Koo Tech MBA cohorts?
I would describe the culture and community within our Andre Koo Tech MBA cohort as both supportive and collaborative. Given our cohort size of only 45 students the program, I feel like I have been able to build deep relationships with my classmates and they have become great friends! While we all come from very diverse professional and cultural backgrounds and have different career aspirations, everyone is so willing and motivated to help each other get to where we want to go together. I see this in the way that classmates with expertise in technical or business subjects are willing to spend extra time in study groups to tutor one another, and I see it in the peer resume review and mock interview sessions I have conducted with my classmates in preparation for the recruiting season.

I also have also actively networked with members of the previous Andre Koo Tech MBA cohorts. Especially early in my application and MBA decision process, reaching out to Andre Koo Tech MBA alumni helped me to get the questions answered that I was hesitant to ask administration. I found their willingness to connect with me and their candor answering my personal questions really comforting. It helped reinforced the community culture that exists at Stern and made me feel supported in my MBA experience knowing I could lean on the lessons learned from my classmates. Those conversations have now pivoted to coffee chats to learn about the companies and roles that former Andre Koo Tech MBAs have taken since graduating from the program. These discussions have been valuable to understand where people with skillsets and aspirations like mine have landed in their careers as I am working to chart my own career path.
What was a highlight from one of your Stern Solutions courses?
One of the highlights from my Stern Solutions courses has been gaining valuable professional mentorship from my project sponsor. In some cases, the project stakeholders of the companies sourced to partner with the MBA student teams in the Stern Solutions courses are themselves NYU alumni. As a result, most are extremely enthusiastic to work with current Sternies and are heavily invested in the projects and solutions that we deliver which has been the case with my current Tech Solutions project sponsor. Our team was able to both build a great rapport with our client and deliver valuable work product that they plan to apply to their business.

As a result of this relationship, our sponsor has invested personal time to understand our professional backgrounds and career aspirations. Running in parallel with the coursework and project deliverables we have been holding one-on-one mentorship sessions which have been incredibly valuable for me as I continue to navigate career exploration and recruiting preparation. I think that is the beauty of what the experiential learning courses at Stern can afford students. We are given a lot of autonomy on how to manage the client relationship and execute the project as MBA consultant, so the course is really what you make of it. I would not have expected this type of experience by simply reading the syllabus for the course, but these are the types of unique and spontaneous opportunities that can arise during experiential learning courses at Stern.
Tell us about your tech background prior to the program. How did you prepare for the program before it began?
Prior to starting the Andre Koo Tech MBA, I had limited hands-on technical expertise. While at Villanova University where I attended undergrad, I studied Management Information Systems (MIS). I think an MIS degree prepared me well to build a career at the intersection of business and technology. Some introductory courses in my curriculum gave me exposure to programming (namely JavaScript), database management, and data analytics, however, in my career at Deloitte Consulting as a Technology Consultant I played more of a functional role on most of my digital transformation project teams. There I was responsible for translating client business requirements into an application design and for managing the agile development of our software solutions. While this role required enough technical knowledge to ensure that my application design was technically viable and help resolve clarifications/ impediments raised by my development teams, I lacked hand-on technical programming experience.

To better prepare for the technical classes included in the Andre Koo Tech MBA curriculum I heeded the advice of previous Andre Koo Tech MBAs and brushed up on my SQL and Python skills. To do so I leveraged the bootcamp sessions offered by NYU prior to our program starting plus some online learning resources like Data Camp and Code Academy. These resources were valuable and made me feel more comfortable with the class material in the technically focused courses.
Why did you choose NYU Stern and the Andre Koo Tech MBA?
During my MBA pursuit, I thought a lot about the direction of my career. This is not to say that I had my target company and role pre-determined but understanding where I was headed directionally helped me narrow my MBA program search. I wanted to stay in a technology or tech-adjacent industry after starting my career in Technology Consulting. Roles in Product Management appeal to me and align well with my previous work experience, so I knew that I was not using the MBA to make a huge pivot in my career but to accelerate it.

Therefore, the format of the Focused Andre Koo Tech MBA program made a lot of sense. Firstly, the one-year accelerated program had clear cost benefits. Getting an MBA is a big investment, and I felt that the one-year format was the more ROI-conscious choice given where my career was headed. I was also very sensitive to the fact that the pace of technological change is very fast. Being out of the workforce for too long in the tech industry would require a steeper learning curve post-MBA. The one-year format allowed me to minimize that risk.

The program's focused curriculum provided an opportunity to build my technology acumen in a city with a finger on the pulse of the tech ecosystem. In New York, NYU has access to some of the largest and most innovative technology companies in the world. Whether learning through experiential opportunities alongside NYC-based companies or from faculty who come directly from the industry, getting that kind of exposure and experience in and out of the classroom would help me develop a unique point of view before heading back into the workforce. It crossed my mind that with a one-year accelerated program, one of the key differences from a traditional 2-year MBA is the lack of a built-in internship during the summer. I felt, however, that the experiential learning opportunities in our Andre Koo Tech MBA program were more than sufficient. From a logical perspective, the Andre Koo Tech MBA program seemed like a great format to maximize my MBA experience and align well with my career aspirations.

The community at NYU, specifically also played a big role in my decision. What really impressed me during my Stern application process was the emphasis on strong EQ. This is one of Stern's values that you read about online and hear about from current students. It sounds cliché, but it is one of the biggest contributors to building a strong sense of community at Stern. I saw it first-hand in every interaction throughout my application process; whether I was talking to an alumnus, a current student, or a representative from the admissions office, everyone was welcoming and spoke to the collaborative and inclusive culture that exists at NYU. Classmates are willing to go the extra mile for each other and Stern alumni are eager to help current Sternies in any way that they can. In addition, the breadth of Academic Advising and Career Development resources at our disposal provide individualized attention to maximize your time in school and get you where you want to be after graduation. This made me feel confident that if I inevitably stumbled at any point throughout the year, NYU would be there to lift me up. The Andre Koo Tech MBA program, specifically, is a smaller cohort of people that come from all walks of life and careers. The size of the program lends itself to building strong and lasting relationships and offers an opportunity to learn from each other.
Did you have coding experience prior to the Andre Koo Tech MBA? If not, what value did learn to code bring to your tech career?
Prior to starting the Andre Koo Tech MBA, I had little coding experience apart from some basic JavaScript experience in a purely academic context and some Apex/ Visualforce coding used specifically on the Salesforce.com platform from my professional career at Deloitte Consulting.

From the Andre Koo Tech MBA I have been able to enhance my coding skillset, specifically in Python, during technically focused classes like Dealing with Data, Data Science for Business, and DevOps and Agile Methodologies. While I do not anticipate that these hard technical coding skills will be required of me in my target career path of Product Management, I see these skills as particularly valuable for two reasons:

It gives me deeper understanding of the intricacies programming and a deeper understanding of technical architecture will allow me to better empathize with the pains of my development teams and talk the same language. Having this knowledge can help me be a better people manager while working with development teams as I have a stronger point of view on the challenges and time required to build things like a continuous delivery pipeline.

As a Product Manager I will need to rely on data to inform/ justify my decision making across all stages of the Product Development lifecycle. Having basic Python and data analytics experience will allow me to query, visualize, and interpret data more effectively so that timely business decisions can be made.