Aurelio Yrigoyen, MBA 2022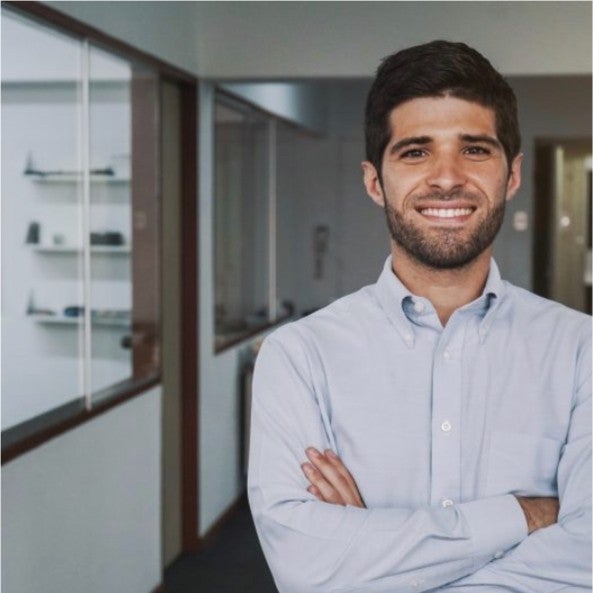 Hometown
Lima, Peru
Pre-MBA Employer
Cocina Lab (co-founder) / Collaborare (business partner)
Industry Focus
Entrepreneurship / Innovation, Consulting
Student Clubs
CannaBusiness Club
Emerging Market Association
Entrepreneurship and Startup Association
Stern Technology Association
What is a spot in NYC that is special to you?
Washington Square Park. I pass through it every day before and after classes. It always has different activities with very diverse people. It has its own life. It is the perfect place to go to read or just think.
What was your favorite class at Stern?
There are plenty of interesting and fun classes, but if I had to pick one, it would be Communication. It was a highly empirical class, where we had the chance of speaking and presenting in every session. Getting to know your audience and understanding yourself in situations where you must interact with teams or other people are both very important skills for life.
How did you find a sense of community and support within Stern?
Stern is very involved in helping us to create relationship between each other. Since before starting the program, I have known many of my peers and now there are activities every week. There are many resources to help us in the career paths or recruiting processes. We can connect very easily with alumni working in different fields.
How would you describe the culture and community within your Tech MBA cohort? How have you interacted with alumni from previous Tech MBA cohorts?
If I would have to use one word it would be collaboration. Is incredible how everyone is interested that we all do well, in classes and professional life. We share resources and network for developing new projects and recruiting. Stern has helped us connecting with the previous cohort organizing coffee chats and social activities.
Tell us about your tech background prior to the program. How did you prepare for the program before it began?
I have been an entrepreneur for many years and, despite not being a tech person, I have worked using technology as the main tool to create value. To achieve scalability for a business, technology should be used. I was surrounded by technology, but I had to leverage in people that knew more than me. I prepared with a very basic course of coding, but this is an MBA so it is focused in the use of technology as a tool to improve businesses and life. The topics with more complexity will be taught.
How did Stern's Office of Career Development prepare you for success?
The office is super helpful and very proactive. Before starting the program, we received assessments for understanding our prior path and start defining our careers. We have received support materials for every step of the career process, such as resume building, Linkedin, recruiting and even networking.
Why did you choose NYU Stern and the Tech MBA?
Stern is a school focused in the value of action, of being able to challenge the stablished and improve it. I loved that spirit. Also, by being in New York, a city with so many resources, business, art, creativity, is an unbeatable opportunity. I choose the Tech MBA because technology is shaping every aspect of human life and has the potential of solving big problems. Mixing technology with business is a great tool to achieve change.
Did you have coding experience prior to the Tech MBA? If not, what value did learning to code bring to your tech career?
I did not have any experience coding. I understood the logic behind it because I had worked with developers, but there is no need of knowing coding or having any deep technical experience. During the MBA we will be taught about coding and how to deal with data to take decisions and build products.