Divya Mehta, Tech MBA 2023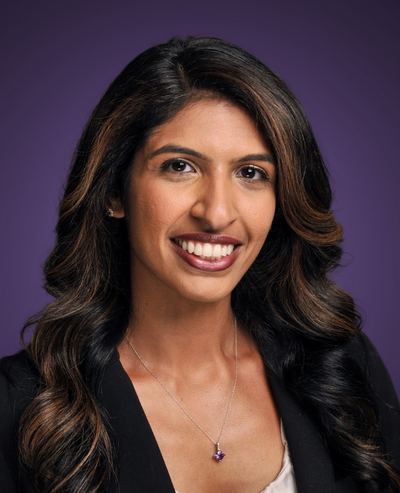 Pronouns
she/her/hers
Hometown
Bridgewater, New Jersey
Undergraduate
Pennsylvania State University
Pre-MBA Employer
Intel Corporation - Tech
Specializations
Tech Product Management, Strategy Tech Product Management, Management of Tech and Data, Fintech
Clubs/ Involvement
VP of Conference, Graduate Marketing Association (GMA)| VP of External Partnerships, Business Analytics Club (BAC) | Stern Technology Association | Private Equity and Venture Capital Club | Entrepreneurship and Startup Association | South Asian Business Association
Why did you decide to pursue the focused one-year MBA program?
I had a wonderful employer and was confident that I wanted to continue my career in the tech industry. I wanted to diversify my skill sets, network, and perspective, without spending too much time out of the industry.
How did you find a sense of community and support within Stern?
From day one, our Andre Koo Tech MBA Slack group was buzzing with insider tips and tricks on navigating the NYC housing market and the NYU onboarding process. We had the opportunity to meet each other during a few zoom workshops before our summer classes officially began. Additionally, having the entire NYU Stern building to ourselves during the summer gave our cohort plenty of opportunities to build connections between classes.
How would you describe the culture and community within your class?
With the accelerated nature of the one-year MBA, supporting one another became an essential part of our everyday MBA life. Additionally, having all of the same classes allowed us to collectively update a rotating list of assignments in Slack. I also enjoyed that we were able to take classes with the Fashion & Luxury focused program, which added interesting flavor to classroom dialogues. One of my favorite aspects was when student subject matter experts in the class volunteered their time to host zoom calls at late hours to help simplify textbook concepts and industry applications
What was an experiential learning program in which you participated and how was your experience?
Currently, I am working on an impactful project with a leading technology firm specializing in transportation. Our project sponsor is a Stern alumnus who is passionate about our growth process and success. The fact that we could meet in person for the kickoff was a bonus!
How have the immersive aspects of the program helped you prepare for the next step in your career?
We've had a variety of speakers present on topics ranging from fintech to digital transformation in medicine. This has exposed us to the various applications and challenges that different industries face when adopting technology.
What was your favorite class at Stern?
My favorite class is definitely Digital Currency, Blockchains, and the Future of the Financial Services Industry. The professors do a great job of explaining the foundational and philosophical reasons that cryptocurrencies were introduced. They also cover important mechanics and challenges of mining today.
What has been a highlight of your Stern experience?
One of the many highlights of my Stern experiences was meeting the CFO of Gucci in our accounting class. It was inspiring to hear him speak about the convergence of accounting, fashion, and technology in the industry. This was where I had my first I-really-am-in-NYC revelation. You never know who is going to step into the classroom!
What advice do you have for prospective students?
While narrowing down your search, have as many conversations with current students and alumni as you can. It's the best way to measure cohort culture from different perspectives accurately. Write down your goals before you start your MBA program, and use that list as guidance when prioritizing how to spend your time (between clubs, internships, treks, classes, and extracurriculars). There are infinite ways to shape your MBA experience, but it can be helpful to remember the specific reasons why you chose the program you're in.