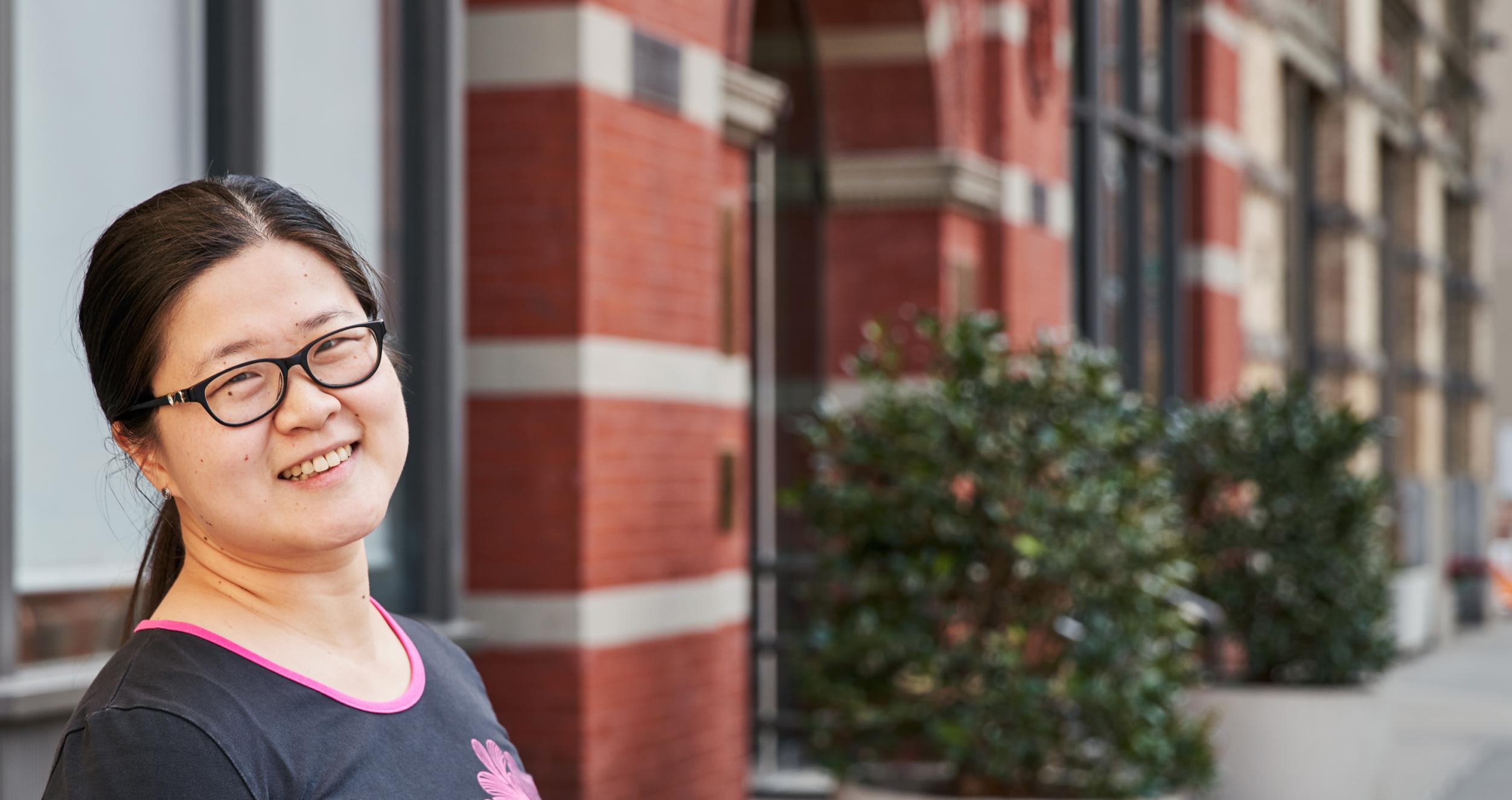 Alumni Voices
Chaoyun Bao, MBA 2019
---
Hometown
Hefei, Anhui, China
Undergraduate
School: University of Science and Technology of China 
Major: Astronomy 
Previous Company
Data Scientist, Genscape 
Post-MBA Company
Senior Strategy Consultant, IBM
Specializations at Stern
Product Management, Strategy
Student Clubs
Stern Women in Business, Conference Committee 
Arts, Culture, and Cuisine 
Stern Investment Management & Research
Stern Management & Strategy Club
Stern Technology Association
What has been your favorite class at Stern?
"Predicting the Future of Technology" with Professor Amy Webb. The class was quite different from many of the other classes I took at Stern in the sense that it looks forward 5 to 10 years out in the horizon and gives you a different way of thinking how technology could impact our own life, the company and society in the future. On top of that, Professor Amy Webb is a great presenter and dynamic teacher.
How has Stern's Office of Career Development prepared you for success?
Since most tech companies have an office in NYC, we can easily get first hand experience about what it is like to work at these companies and network there through Stern experiential learning classes, club treks, industry meet up events, conferences or coffee chats with Stern alums. Stern alums have been overwhelmingly eager to help and give back. I got my job through campus recruiting hosted by OCD and one of my interviewers was actually a Stern alumna whom I had a coffee chat with two months before the interview.
Why did you choose NYU Stern?
Fit. That includes how the one year focused Andre Koo Tech MBA program fit my career goals, how Stern's focus on both IQ and EQ fit with my personal values, and how I fit in with my class and the Stern community. After my interview at Stern I told myself: "I really like the people I interviewed together with and I can see myself spending a lot of time with them."
What has been the highlight of your time at Stern?
At the end of our Andre Koo Tech MBA west coast immersion, after spending two whole weeks together 24/7, we all decided to go to Karaoke together. We were all singing and dancing and just didn't want all this to end. 
What was an experiential learning program in which you participated?
In the summer, I did the NYC Tech Immersion as part of the Andre Koo Tech MBA curriculum. It opened my eyes to so many different parts of the tech ecosystem at NYC. We visited large tech companies like Google, Uber, Citibank and Goldman Sachs, medium-sized companies like Oscar Health, and many start up incubators like Company (Grand Central Tech) and Digital Future Lab. I had very little exposure to entrepreneurship before Stern and this experience definitely got me more excited about joining an early stage venture sometime later in my career and form new friendships. 
Who is someone that has strongly influenced your time at Stern?
Besides my entire amazing Andre Koo Tech MBA cohort, I would say the person who influenced my career search the most was Professor Sonia Marciano. She was my strategy professor. When I felt stuck searching for product manager positions early in the fall, I remembered what she told us in our class: "Leverage your strength and be big in the dimension that matters." So I decided to switch my career searching strategy and leveraging my analytics background more. That's how I ended up with my job at IBM Chief Analytics Office.