12th Annual Social Entrepreneurship Conference
The 12th Annual Social Entrepreneurship Conference, sponsored by the NYU Stern School of Business and Northeastern D'Amore-McKim School of Business, convened scholars, practitioners and students from around the world to explore topics in social enterprise, innovation, sustainability and impact. The three-day conference explored emerging concepts and themes in social entrepreneurship research.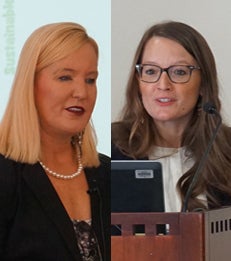 Highlights included:
Remarks from conference co-organizers, Professor Jill Kickul of NYU Stern and Sophie Bacq of Northeastern;
Stern faculty, including Rachel Kowal, Matt Statler, Hans Taparia and Perttu Salovaara, and students joined a panel discussion on "Experiential Learning and Social Innovation;"
Professor Karen Brenner introduced a new Social Enterprise Law Tracker;
Marc Albanese (MBA '08) and Yaopeng Zhou (MBA '14), Stern alumni and co-founders of Smart Vision Labs, presented their portable vision examination device and offered free eye exams to attendees;
Keynote presentations from Kai Hockerts of Copenhagen Business School, Kumar Nair of the LM Thapar School of Management, Noah Isserman of the University of Illinois, Marya Besharov of Cornell University and Jeffrey McMullen of Indiana University; and
A panel discussion on "Issues in Advancing Social Entrepreneurship Research."