Crafting Tomorrow's Luxury: A Conversation with Laurent Claquin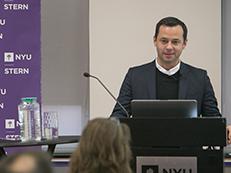 On April 19, NYU Stern's Center for Sustainable Business and the Greater New York City Chapter of the International Society of Sustainability Professions (ISSP-NYC) welcomed Laurent Claquin, Head of Kering Americas, for an event entitled "Crafting Tomorrow's Luxury."
 
A global luxury group, Kering develops an ensemble of luxury houses in fashion, leather goods, jewelry and watches, including Gucci, Saint Laurent, Balenciaga, Stella McCartney, Alexander McQueen and more. Claquin opened the discussion by highlighting Kering's belief that sustainability and luxury are one and the same and detailed how the Group has placed sustainability at the core of its business strategy over the past ten years.
 
"We believe strongly that sustainable business is smart business," Claquin said.
 
Claquin shared the Group's roadmap, which is aimed at driving their brands toward higher levels of economic, environmental, ethical and social performance. He explored Kering's targets for 2025 and discussed how the Group intends to launch disruptive solutions and empower future generations.
 
"Tomorrow's luxury is sustainable luxury," he said, while emphasizing the need for collaboration in order to find innovative, sustainable solutions.
 
Claquin also provided insight into Kering's Environmental Profit & Loss (EP&L) methodology, which allows a company to measure in monetary value the environmental impacts generated across its entire value chain. Through use of this pioneering tool, Kering has determined its environmental impact is less than 45 percent global average business with comparable turnover, and it will continue to strive to improve further.