Center for Sustainable Business Hosts Panel Discussion on Impact Investing in the Creative Economy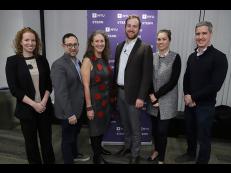 On Wednesday, Nov. 28, NYU Stern's Center for Sustainable Business hosted a panel discussion entitled, "Impact Investing in the Creative Economy." Moderated by Stern alumnus Ward Wolff (MBA '17), senior associate, Upstart Co-Lab, the panel featured several industry experts, including:
Laura Callanan, founding partner, Upstart Co-Lab
Sam Marks, executive director, New York City Office of the Local Initiatives Support Corporation
Brian Murray, co-founder, Shift Capital
Anna-Marie Wascher, founder and CEO, Flat World Partners
Great to have @NYUStern alum Ward Wolff from @UpstartCoLab back to campus to moderate a conversation on impact investing in the creative economy! pic.twitter.com/nl6jZ0Z2up

— NYU Stern Center for Sustainable Business (@NYUSternCSB) November 28, 2018
The panelists explored the intersection of impact investing and the creative economy, with a focus on how a thriving creative economy can offer an on-ramp to economic opportunity and quality jobs in low-income communities in New York City and Philadelphia.  They underscored the value and opportunities that the creative economy presents:
$12 trillion of assets under management in the US – 25% of all investable assets – are aligned to be socially responsible and to drive impact.  
85% of millennial investors are focused on doing well financially while doing good in the world.  
Increasingly millennial investors – like other impact investors – seek to advance diversity, equity and inclusion through their investments.The creative economy is driving jobs and economic growth across the US.
Media, entertainment, fashion & apparel, design, food and more already contribute $763 billion to the nation's economy representing 4.2% of US GDP.
Excited to kick off tonight's "Impact Investing in the Creative Economy" event, hosted by @NYUSternCSB! pic.twitter.com/4eQ1v3Ys5V

— NYU Stern (@NYUStern) November 28, 2018
Following the discussion, the panelists took questions from the audience.
For more information, please visit the 
Center's website
.