NYU Stern-Citi Conference in Leadership & Ethics Features Rainforest Alliance Pres. Tensie Whelan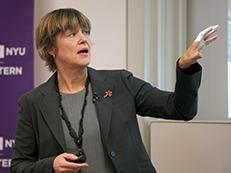 The 12th Annual NYU-Stern Citi Conference in Leadership and Ethics addressed the theme of "What Every Business School Student Needs to Know About Sustainable Sourcing and Financing."
Organized by NYU Stern's Citi Leadership & Ethics Program and Business & Society Program, with generous support from the Citi Foundation, the 2015 conference featured this year's Distinguished Citi Fellow in Leadership & Ethics Tensie Whelan, president of the Rainforest Alliance and NYU alumna (BA '80), as well as global business leaders, funders and the managing director of a Rwandan Specialty Coffee Company.
Val Smith, director of corporate sustainability at Citi, welcomed guests to the 12th annual event and underscored Citi's longstanding commitment to the environment through responsible finance, supply chain management and efforts to find "win-win" scenarios that create value and address environmental and social concerns.
Whelan delivered a keynote address entitled, "Creating a New Corporate Ecosystem for Sustainability: Trends in Sustainable Production, Sourcing and Financing." She shared a number of case studies from the Rainforest Alliance's work, demonstrating the economic benefits of sustainable business practices. Whelan also described a shift from mindless to mindful consumption, and how companies are responding by investing in their brands and moving beyond functional and aspirational attributes toward meaningful attributes. Pointing to population growth forecasts, she warned that increased global demand will lead to a number of significant issues, including deforestation, poor worker conditions and a protracted crisis in agriculture. She underscored the importance of trees for resilience during extreme weather conditions (e.g., droughts and floods), and listed a number of risks associated with unsustainable business practices, including supply chain risk, reputational risk, financial risk, human resources risk, legal risk and threats to an organization's license to operate.
Following her talk, Whelan moderated a panel discussion on "Implementing Field Level Sustainability Through Both the Eyes of Industry and Producer," with Kip Walk, corporate director of sustainability at Blommer, the largest chocolate supplier in North America; Gilbert Gatali, managing director of KZ Noir, a Rwandan specialty coffee company; and Christine Riley Miller, senior director of corporate social responsibility at The Dunkin' Donuts & Baskin-Robbins Community Foundation. The panelists explored a number of challenges facing sustainable business, including how to enhance access to electricity, schools, infrastructure and financing in underdeveloped areas; how to increase the yield of each tree on a farm; how to manage uncertain cash flows; and how to increase demand and a willingness to pay for sustainable business practices among mainstream consumers.
Courtney Lowrance, director of environmental and social risk management at Citi, moderated a second panel discussion on "Exploring How to Finance Sustainability at the Field Level," with Brian Milder, senior vice president of strategy, advisory and innovation at Root Capital, a nonprofit social investment fund; Michelle Buckles, director of sustainable finance at the Rainforest Alliance; and Frank F. DeGiovanni, director of financial assets at the Ford Foundation. The panel stressed the need for financing among small farmers, as well as training in business management and financial literacy. They also discussed growing interest among governments and organizations to encourage biodiversity (growing different crops during alternate seasons), which creates multiple revenue streams and increases a farm's resilience in the face of potential shocks (economic, climate, etc.).
Jonathan Atwood, vice president of sustainable living and corporate communications for Unilever, described the multinational consumer goods company with more than 400 brands and 174,000 employees. According to Atwood, Unilever is on a mission to embed a societal issue within each brand proposition. For example, Dove is tackling the issue of women's empowerment. Similarly, Ben & Jerry's is committed to social justice. Atwood affirmed that brands with a social promise grow faster. He also shared some pieces of advices with students:
Don't be limited by what you think your job is
Be courageous and push boundaries