2018 Ashok C. Sani Distinguished Scholar-In-Residence Lecture Featuring Alan Murray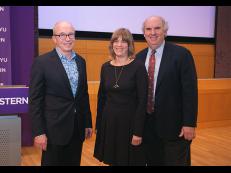 On Tuesday, May 1, NYU Stern's Business & Society Program (BSP) and 
Center for Sustainable Business
 (CSB) co-hosted the 2018 Ashok C. Sani Distinguished Scholar-In-Residence Lecture, delivered by Alan Murray, Chief Content Officer of Time Inc. and President of Fortune. This year's talk was entitled "The Role of Sustainability in Today's Business World."
Murray, who was introduced by Professor 
Bruce Buchanan
, offered insights on how a shift in leadership practices is impacting long-term business sustainability. He discussed companies' responses to recent public relations crises, noting that executives have been forced to reexamine their communications strategies following a period of rapid technology change.  
"Information doesn't move vertically anymore; it moves omnidirectionally," Murray noted.
Following the discussion, Murray answered questions from the audience.
Watch the full event below: