Brad Smith, President of Microsoft: The Challenge of Maintaining Integrity on the Internet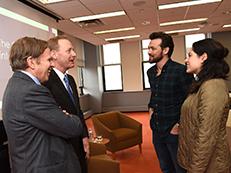 On Wednesday, April 26, NYU Stern's 
Center for Business and Human Rights
 welcomed Brad Smith, President of Microsoft, for an event entitled "The Challenge of Maintaining Integrity on the Internet." He was joined by Professor 
Michael Posner
 to discuss the misuse and manipulation of internet platforms by third parties and how extremist content, fake news and intolerant discourse have spread across the web with real-world consequences.
In order to mitigate those potentially harmful consequences, such as the rise in nation-state cyber attacks, Smith said Microsoft has called for the creation of a multinational agreement akin to a digital Geneva Convention. The agreement would set standards governments should abide by when interacting with other countries in the cyber sphere as well as norms to guide the responsibilities governments have to protect their citizens.
"The Geneva Convention tells governments what duty they have to protect people in times of war," said Smith. "Don't people need protection in times of peace also?"
Microsoft has also called for the creation of a nongovernmental organization similar to the IAEA that would publish regular reports on the digital actions of governments. The organization would act as a non-partisan entity to which private companies could report misconduct.
Together, these actions would lead to more transparency in regard to the digital actions of governments, Smith argued, which in turn would lead to more privacy rights for citizens.
"People can't feel secure that their information is being protected unless they have significant knowledge about what their government is doing," said Smith.