Innocence Project Attorney Seema Saifee and Exoneree Darryl Howard Speak to the Stern Community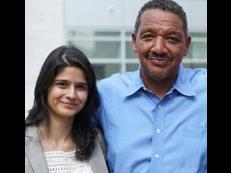 NYU Stern's Business & Society Program welcomed Seema Saifee, staff attorney for the Innocence Project, and Darryl Howard, who was recently exonerated after serving 24 years for a wrongful murder conviction, to speak to an audience of undergraduate Stern students.

Saifee shared the Innocence Project's mission to free wrongfully convicted men and women from prison and underscored the combined influence of racial discrimination, negligence and socioeconomic factors that contribute to these injustices. Having innocent people in prison is an affront to civil justice, but also that the real perpetrator is still at large, she explained. Since its inception in 1992, the Innocence Project has proven 344 men and women innocent using DNA evidence. More than 1,700 have been exonerated from non-DNA evidence.

Saifee listed the variety of factors that have led to false convictions, including mistaken eyewitness testimonies, false cellmate testimonies, false confessions, sloppy investigations and tunnel vision. She also pointed out that there is sometimes an institutional inability to admit mistakes, particularly when exonerating a falsely convicted person could be politically perilous for a re-election into office.  

Howard was wrongfully convicted and sentenced to 80 years in prison for the murder of a woman and her daughter as well as arson in North Carolina in 1991. Evidence of sexual assault of both victims by two different men was present. The state's theory was that the women were never raped. DNA testing in 2010 matched a man who had 35 prior convictions. The man was questioned by police, but the recording of his interview was never turned over to the District Attorney, despite a court order. A confidential tip suggesting the crime was drug-related and committed by multiple people was also never turned over to Howard's attorney.

Howard was legally and officially exonerated on September 2, 2016. Hearing Seema talk about what happened to him, he said, brings tears to his eyes. A former drug dealer, hanging out in the projects made him a target, explained Howard, whose wife of 30 years only missed two visits throughout his time in prison. Howard called on the business community to help, because what happened to him happens to innocent men and women every day in this country.