The Power of Us with Jay van Bavel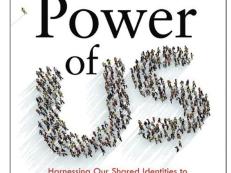 Ethical Systems is continuing their series of Ethical Systems VIP webinars through the Fall. The first session is Thursday, October 7, 2021 from 12:00 PM - 1:00 PM, featuring a discussion with Jay van Bavel on his new book, The Power of Us, which is about a revolutionary new understanding of identity, showing how our group affiliations have a powerful influence on our feelings, beliefs, and behavior, that can inspire both personal change and social movements. Please note, this event is invitation-only and intended for Ethical Systems' donors and supporters, research partners, and collaborating companies. We hope the limited size of the gathering will encourage a richer dialogue. The event will not be recorded so everyone can feel free to speak their mind.
We'll open up the discussion to all attendees after Jay spends about 15 to 20 minutes introducing the book.