"Faster, Higher, Farther: The Volkswagen Scandal" Book Discussion with Jack Ewing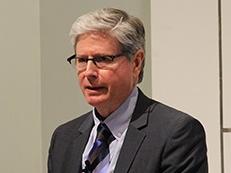 On May 23, the NYU Stern Center for Sustainable Business and Ethical Systems welcomed Jack Ewing, European Economics Correspondent for The New York Times, for a discussion of his new book "Faster, Higher, Farther: The Volkswagen Scandal".

Ewing, who has spent more than 20 years covering German business and economics, opened his presentation with a brief history of Volkswagen, which emerged in the late 1940s as the icon of post-war German regeneration. He detailed Volkswagen's fraudulent emissions testing and took the audience behind the scenes to expose how this deception happened, who discovered it and how the company tried to cover up its misdeeds.

"Arrogance has a price," said Ewing. "A strong ethical foundation is hard to achieve, but it is a part of what makes a company successful and profitable."

Following his presentation, Ewing fielded questions from the full-capacity audience.