Corporate Sustainability Leadership: Past, Present and Future Trends" Panel Discussion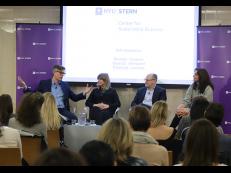 On Feb. 15, the NYU Stern 
Center for Sustainable Business
 and 
GlobeScan
 co-hosted a panel discussion entitled, "Corporate Sustainability Leadership: Past, Present and Future Trends".
The event, which was co-moderated by Professor 
Tensie Whelan
 and GlobeScan co-CEO Chris Coulter, featured an overview of new expert stakeholder research on sustainability leadership by GlobeScan and reactions and insight from corporate leaders at McDonald's and PepsiCo.
Panelists included Jon Banner, EVP Communications at PepsiCo and Francesca DeBiase, Chief Supply Chain and Sustainability Officer at McDonald's.  
Discussion centered around shifting business principles towards long-term sustainable practices. The panelists discussed social responsibilities for corporations and examined how the trend of new sustainability-focused investors will impact business strategy in the future.
"We're increasingly seeing when you invest in and embed sustainability core to business strategy you drive financial performance too," said Whelan.
Following the discussion, the participants fielded questions from the audience. 
For more information, please visit the Center's 
website
.