CSB 2nd Annual Practice Forum: How to Assess the ROI on Sustainability for Corporate Practitioners and Investors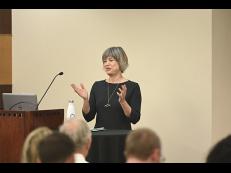 On Wednesday, March 13, NYU Stern's Center for Sustainable Business hosted its Second Annual Practice Forum, entitled "How to Assess the ROI on Sustainability for Corporate Practitioners and Investors."
"Today, 1 in 4 dollars are in some form of ESG (Environmental, Social & Governance) investing," said Tensie Whelan, professor at NYU Stern and founding director of Stern's Center for Sustainable Business, kicking off the forum in her opening address. "85% of the companies in the S&P 500 are issuing sustainability reports."  
.@TensieWhelan walks through our ROSI methodology — and how companies are using it to monetize investments in sustainability. #CSBPracticeForum pic.twitter.com/SO8RfRESws

— NYU Stern Center for Sustainable Business (@NYUSternCSB) March 13, 2019
Sessions included an ROI Deep-Dive on a variety of topics as well as a panel with industry professionals and distinguished academics regarding ESG in corporate finance.
Currently at the #CSBPracticeForum, we're hearing from sustainability leaders Rick Ridgeway of #Patagonia, @jamesvsjaws of #AstonMartin, @AndrewWinston and @DanielAronson on how monetization helps them. Learn more about CSB's ROSI Methodology here: https://t.co/xg7flssRPX pic.twitter.com/KnGY9x2oSv

— NYU Stern Center for Sustainable Business (@NYUSternCSB) March 13, 2019
The daylong event also featured two fireside chats on the ROI of Sustainability between John D. Williams, CEO, Domtar, and Emily Chasan, Sustainable Finance Editor, Bloomberg News, and between F. William McNabb, former chairman, Vanguard, and Adi Ignatius, editor-in-chief, Harvard Business Review.  
In the next session, "#Sustainability Views from the #CEO Suite," @business sustainable #finance editor @echasan sits down with John D. Williams, CEO of @DomtarEveryday #CSBPracticeForum pic.twitter.com/JsHN3I8tNy

— NYU Stern (@NYUStern) March 13, 2019
Next at the #CSBPracticeForum: A panel of distinguished academics and industry professionals from around the world discuss #investor insights on #ESG and corporate #financial performance. Watch here: https://t.co/2MoskhPJpm pic.twitter.com/JOOxehNfJ9

— NYU Stern (@NYUStern) March 13, 2019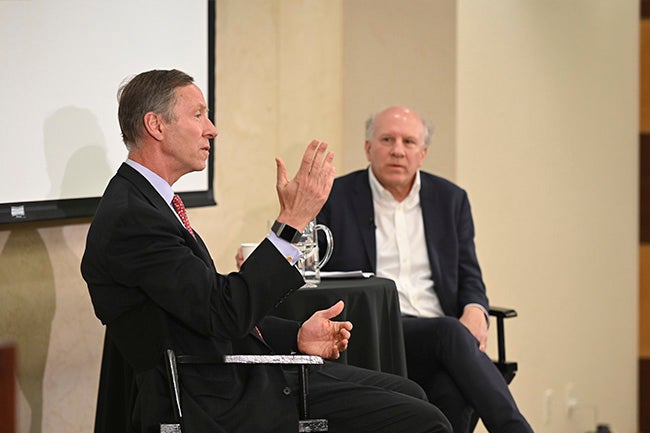 Forum participants also engaged in hands-on workshops led by CSB scholars, which provided an opportunity to work through ROI on sustainability risk mitigation, positive impacts on employees and sustainability related operational efficiencies.