Sani Lecture with Preet Bharara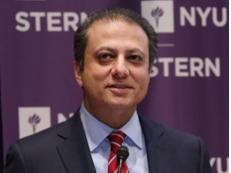 United States Attorney for the Southern District of New York Preet Bharara recently addressed an auditorium of students and faculty from NYU's Stern School of Business and Law School, as well as Stern alumni.  The lecture was hosted by NYU Stern's Business & Society Program.
Drawing from his experience overseeing the investigation and litigation of criminal and civil cases, Bharara pointed to three areas where firm culture can often lead to trouble:
Culture of Minimalism – i.e., firms in which doing the bare minimum required by current regulation is the norm.
Culture of Formalism – i.e., companies where rules and checklists replace basic principles on how to do the right thing.
Culture of Silence – i.e., when good people at firms don't speak up for fear of retribution, rocking the boat, revealing inexperience, or being labeled as a traitor, etc.
Addressing students in the audience, Bharara shared some advice:  "Don't ever ignore your gut; you're usually right."  He also encouraged attendees to look for companies with a basic culture of integrity: "The best institutions police themselves.  Be the sheriff at your organization, and remember, no single person is more valuable than the institution."