10th Annual Haitkin Lecture with Susan Crawford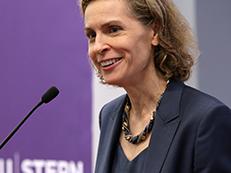 Susan Crawford, professor at Yeshiva University's Benjamin Cardozo School of Law, visiting professor at Harvard Law School, contributor to Bloomberg View and Wired, and author of Captive Audience: The Telecom Industry and Monopoly Power in the New Guilded Age, delivered the 10th Annual Haitkin lecture, entitled "The Responsive City: Communications in Context."  Hosted by NYU Stern's Business & Society Program, Crawford underscored the importance of making high-speed Internet access a universal, affordable resource for everyone in the United States.
Crawford warned that dozens of countries are surpassing the US in terms of speed and price of broadband Internet.  She also underscored how Americans are paying some of the highest prices for lower-speed Internet access, depriving users of important services that are required to compete in today's global business markets.  In addition to sharing her views on America's backward slide since the Internet revolution some 10 years ago, Crawford shared some of her own personal story, including her upbringing on the west coast and her family's passion for music.  She also described her somewhat nonlinear career path, including a stint as special assistant to the president for science, technology and innovation policy during 2009, when she led the FCC transition team between the Bush and Obama administrations.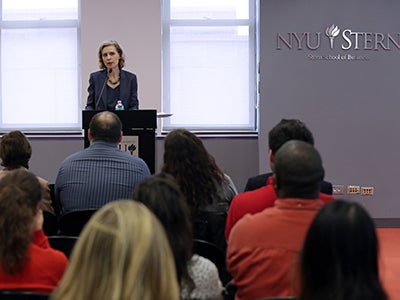 About the Haitkin Lecture
The annual Haitkin Lecture is a forum dedicated to the examination of issues of integrity and ethics in business. It is a special opportunity that allows for Stern students to listen to and ask questions of extraordinary individuals from academia, practice and the press. The Haitkin Lecture was established through the generosity of Stern alumnus Jeffrey Haitkin, (BS '68).