NYU Stern's 14th Annual Haitkin Lecture with KIND Snacks' Daniel Lubetzky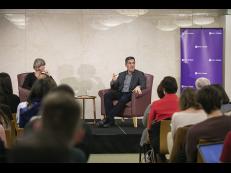 Daniel Lubetzky, founder and executive chairman of KIND Snacks, sat down with Professor Tensie Whelan, director of NYU Stern's Center for Sustainable Business, for an in-depth conversation as part of NYU Stern's 14th annual Haitkin Lecture, hosted by the School's Business and Society Program.  During a wide-ranging discussion to a packed room of students and alumni from across NYU, Lubetzky emphasized the vital role that business plays in connecting people in today's polarized society with increasingly divisive rhetoric.  
Reflecting on his personal and professional history, Lubetzky shared his background and roots in Mexico, stories from his father who survived the Holocaust and lessons learned from growing a healthy snack company.  He also shared several pieces of advice with students:
Have more conversations with yourself; know yourself.
The journey is just as important (if not more important) than the destination itself.
Remember the three stages (and C's) of entrepreneurship: Creativity, Criticism and Crusader -- all three are crucial for success.
Don't take freedom and democracy for granted.
Never forget the first rule of business -- do no harm!
About the Haitkin Lecture
The annual Haitkin Lecture is a forum dedicated to the examination of issues of integrity and ethics in business. It is a special opportunity that allows for Stern students to listen to and ask questions of extraordinary individuals from academia, practice and the press. The Haitkin Lecture was established through the generosity of Stern alumnus Jeffrey Haitkin (BS '68).
My advice to @NYUStern students:
Make time to talk with yourselves. Think about what gives you meaning.

Thanks for a great conversation @TensieWhelan! pic.twitter.com/ns9nDtEGxJ

— Daniel Lubetzky (@DanielLubetzky) November 19, 2019