Wayne Pacelle, President and CEO of The Humane Society & New York Times Best-Selling Author of The Humane Economy, Speaks to Stern community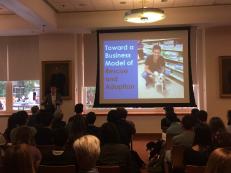 NYU Stern's Business & Society Program welcomed Wayne Pacelle, CEO of The Humane Society, for a lecture and signing of his book, The Humane Economy. Pacelle explained The Humane Society's mission to protect all animals and to create large-scale organizational change by transforming public policy and corporate behavior.

Pacelle illustrated how the the relationship between humans and animals is tangled; while two-thirds of households keep pets, many jobs are tied to the use of animals. He pointed to several markers of progress in the protection of animals: the increase in laws punishing animal cruelty and organized fighting and the protection of national parks. "Our interest in nature, animals and wildlife has always been part of who we are," said Pacelle.

"We don't have to sacrifice the things we care about for commerce," Pacelle said, highlighting several businesses and industries that have adapted their business models to protect animals without sacrificing their economic interests. For example, Petco and Petsmart have pivoted towards a model of rescue and adoption by partnering with pet rescue groups, which then encourages further purchase behavior in that store.

Pacelle pointed out that the movement towards protecting animals, such as products that are not tested on animals, plant-based foods and meat and egg alternatives, offers vast investment and business opportunities. "Capital flows to the opportunities that make society better," Pacelle said.