Tomorrow & Beyond: An Evening with Dr. Jane Goodall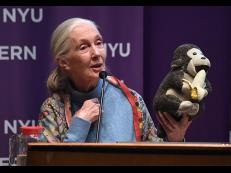 On April 10, the NYU Stern Business and Society Program, Center for Sustainable Business and NYU Department of Environmental Studies welcomed Jane Goodall, Ph.D., DBE, founder of the Jane Goodall Institute and UN Messenger of Peace, for an event entitled "Tomorrow & Beyond: An Evening with Dr. Jane Goodall."
Goodall, who spends nearly 300 days a year speaking about threats facing endangered species, began the discussion with a summary of her journey into the field of science, recalling her dream as a small child in London to live in Africa and study animals. As a young adult in 1960, she traveled to Tanzania to study chimpanzee social and family life in Gombe Stream National Park, challenging long-standing scientific beliefs that only humans could construct and use tools.  
Goodall also discussed the Jane Goodall Institute, which was founded in 1977, citing her desire to become a global leader in the effort to protect species threatened by habitat destruction. She explained that it was the Institute's goal to mobilize the collective power of individual action to save and preserve the natural world.  
"If we all start listening and helping, then surely, together, we can make this world a better place for all living things," said Goodall.  
Following her remarks, Goodall fielded questions from a packed audience in John R. Paulson Auditorium. For additional information, please visit 
www.janegoodall.org
.