12th Annual Haitkin Lecture | Jane Mayer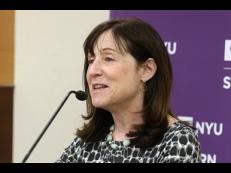 Jane Mayer, investigative journalist and author of Dark Money: The Hidden History of the Billionaires, delivered the 12th annual Haitkin Lecture, hosted by NYU Stern's Business & Society Program. Mayer, who was the first female White House correspondent for The Wall Street Journal and has worked for the New Yorker since 1995, drew on her extensive political coverage and research to demonstrate in her new book how billionaires buy political influence in the United States.

Pointing to the activities of brothers Charles and David Koch, the sixth and seventh richest men in America, Mayer illustrated how conservatives have used money to influence politics. Referencing her book and examining campaign finance on a larger scale, Mayer explained that the Kochs have gained political power by making investments in three key areas: the campaigns of like-minded individuals, think tanks and grassroots groups such as Americans for Prosperity.

While presidents may come and go, Mayer says, the influence of big money is here to stay.