Saru Jayaraman of ROC United Shares Insights on Labor in the Restaurant Industry at 13th Haitkin Lecture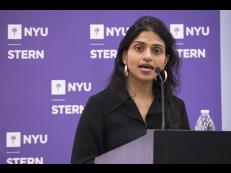 Saru Jayaraman, co-founder and co-director of the 
Restaurant Opportunities Centers United (ROC United)
 and director of the 
Food Labor Research Center 
at the University of California, Berkeley, delivered the 13th annual Haitkin Lecture, hosted by NYU Stern's Business & Society Program. Jayaraman shared the policy-based origins and continued negative impact of low wages in the restaurant industry and explained how and why this business practice is not sustainable for collective prosperity.
Drawing on ROC United's research, Jayaraman pointed to a paradox in the restaurant industry -- while it's the fastest-growing industry in the country with one in 11 American workers holding employment in a restaurant, the majority of those workers cannot afford to make ends meet. In all but seven states, restaurants are not legally required to pay their tipped workers the state's minimum wage. These low wages contribute to low employee morale and high turnover -- a costly issue for restaurants to address. ROC United's work is also closely aligned with the #MeToo movement, as restaurant workers, especially those who rely on tips, have reported prolific sexual harassment. Their research shows that both sexual harassment and employee turnover can be cut in half by paying workers a livable wage.
Jayaraman highlighted the progress that has been made so far towards better wages for restaurant workers, pointing to Governor Andrew Cuomo's support of a bill raising the minimum wage for tipped workers in New York. She also cited several examples of restaurant businesses that agree that higher wages are part of a better long-term business model for the restaurant industry.
About the Haitkin Lecture
The annual Haitkin Lecture is a forum dedicated to the examination of issues of integrity and ethics in business. It is a special opportunity that allows for Stern students to listen to and ask questions of extraordinary individuals from academia, practice and the press. The Haitkin Lecture was established through the generosity of Stern alumnus Jeffrey Haitkin (BS '68).