Powering Partnerships for the SDGs: Uniting Students and Business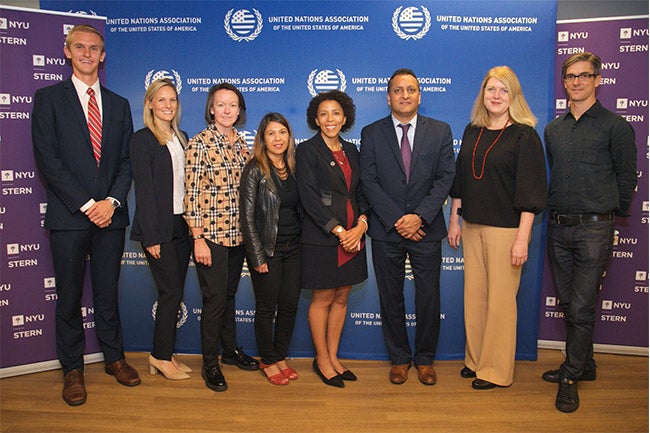 Left to right: Michael Scott Peters, UNA-USA; Mara van Loggerenberg, NYU Stern; Lisa Manley, Mars; Helen Medina, Nestle; Natalie Africa, UN Foundation; Hemant Baijal, MasterCard; Suzanne Fallender, Intel; Matthew Statler, NYU Stern.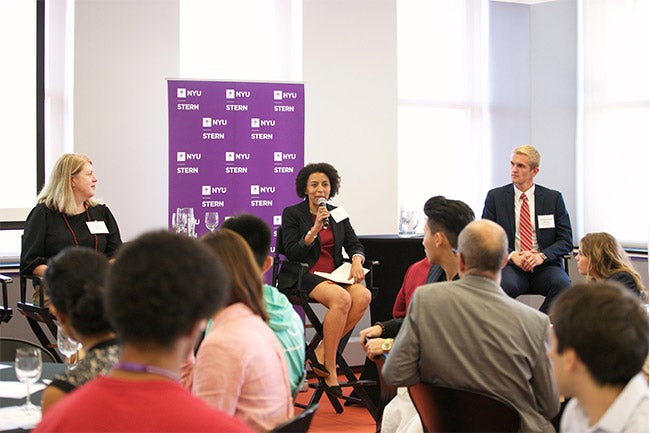 Left to right: Suzanne Fallender, Intel; Natalie Africa, UN Foundation; and Michael Scott Peters, UNA-USA
As the international community gathered at the United Nations headquarters for the launch of the 73rd session of the UN General Assembly, NYU Stern, the UN Association of the USA and Business Council for the UN convened a solutions-focused lunch focusing on the implementation of Sustainable Development Goal (SDG) #17: "Partnerships for the Goals." The event connected students and business leaders who are working towards the SDGs, to explore concrete possibilities for collaboration. Students and representatives from Becton Dickinson, Coca Cola, Intel, Johnson & Johnson, Mars, Mastercard, Nestle, and SkyPower participated in roundtable discussions focused on climate and clean water; digital technology; and global health.
Speakers included:
Professor Tensie Whelan, Director, NYU Stern Center for Sustainable Business
Natalie Africa, Senior Director, Global Health & Private Sector Engagement, UN Foundation
Alexandra Hiniker, Strategic Relations Manager, NYC Mayor's Office for International Affairs
Suzanne Fallender, Director, Corporate Responsibility, Intel Corporation
Michael Scott Peters, US Youth observer to UN, US State Department & UNA-USA
Written by the Public Affairs team.