Welcome NYU Stern Undergraduate Class of 2023
—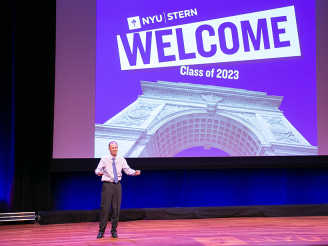 After a summer of anticipation and excitement, the Class of 2023 has finally arrived!
The newest class of undergraduate first-years spent their first week on campus forging deeper connections to their new community through New Student Orientation. Students attended sessions to learn about opportunities at NYU Stern, enjoyed some tennis at the US Open, teambuilt through the Cohort City Challenge, explored and reflected with Associate Dean for Diversity and Inclusion Gary Fraser on how to make the College an inclusive environment for all, and were officially welcomed at Dean's Convocation by Vice Dean Robert Whitelaw, Dean Sundaram, and the NYU Stern community.
"These next four years are what you make of them and we are all cheering you on," Vice Dean Whitelaw shared with the School's newest students. "Your experience will be guided by the
Stern Undergraduate pillars
."
Check out photos
from this year's NYU Stern Orientation and watch a recap of the week and learn more about Vice Dean Whitelaw in his recent
Humans of Stern interview
.