Humans of Stern: Deo Anant (BS '21)
—
Interview by Thomas Khadoo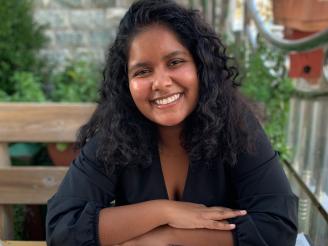 Humans of Stern is a series in which we meet the real people who study and work at the NYU Stern Undergraduate College. Today, we're excited for Deo Anant (BS '21) to answer our questions about everything from her favorite spot in NYC, to how she's coping in a COVID-19 world.
Name:
 Deo Anant
Fast Facts:
BS '21, concentrating in business economics and sustainable business
Involved in Stern Student Council and the Academic Achievement Program
What brought you to NYU Stern/NYC?
While I was born in Guyana, I was raised mainly in Queens, NYC. With vibrant immigrant communities from Jackson Heights to Jamaica, Queens is a microcosm of the entire country. It's also one of the most diverse places on the planet. Outside of Queens, I've also lived in Flatbush, Brooklyn and attended high school in Chelsea, Manhattan. These areas were extremely unique and shaped my growth from childhood to adulthood. NYC embraced me for all I am and so, I knew this was where I wanted to stay. 
In terms of NYU Stern, I don't think I fully understood the magnitude of applying to college at 17. I knew I valued my education and wanted to attend college, however, the decision was tough given that I am a first-generation college student. I was not touring campuses or actively looking through college brochures. In fact, I did not even think I was capable of getting into a school like NYU. Thankfully, I had an older sister who attended Stern and helped me understand the world of possibilities available at the institution. NYU had all the things I wanted: global opportunities, rigorous academics, world-class faculty members, and a large array of academic programs. The cherry on top was that it was all in my favorite city in the world. 
How have your classes been?
This semester, I am taking Information Technology in Business and Society, Introduction to Social Impact (Wagner), From Polenta to Marinara: History of Italian Food (Steinhardt), Competitive Analysis, and Professional Responsibility & Leadership (PRL). I love all my classes this semester because they are a great mix of all the things I am passionate about. While all these classes take place online, I am still having fulfilling discussions and am challenging my own perspectives personally and professionally. For example, in one of my favorite classes right now, PRL with Professor Shelly London, we have been having amazing conversations about what success looks like for us, how to build resilience, and who we want to be as we step into the professional world post-graduation.
What do you do with your weekends?
Usually, I hop on the A train and head downtown to Queens to visit my family on the weekends. My mom makes the best Guyanese food, so I love going home to get some. We'll spend the weekend cooking together, listening to music, and watching episodes of Sister, Sister on Netflix.
In a normal semester, I spent my weekends catching up with friends over brunch, thrift shopping, and doing fun activities in NYC such as walking the Highline and riding bikes at Governor's Island. 
What is it you're doing here at Stern? What interests you, inspires you, what are your goals?
So, I'm concentrating in business economics and sustainable business. After taking microeconomics with Professor Michael Dickstein my first year, I realized how much I loved learning about how firms and individuals made decisions. Last semester, I took a course with Professor Simon Bowmaker called The Making of Economic Policy in the White House and it was extremely insightful to learn about the weight that economics holds in government and how it can be thought of as a social science as well. Also, sustainable business interests me because firms need to consider a variety of stakeholders to remain competitive. Beyond my concentrations at Stern, I am inspired by music, entertainment, and technology as well.
I am also really passionate about mentoring and opening doors for underclassmen. Whether it be formal mentorship programs such as the one I participate in as part of the Academic Achievement Program or informally, I want to make sure I am contributing positively to those coming behind me. I want to be as much of a resource as possible, so please do not hesitate to reach out!
We're all navigating a new normal with COVID-19. Lots of Zoom time, social distancing, uncertainty, maybe loneliness. How are you coping?
This is definitely a strange way to spend my last year in college. I've been missing the energy of campus buzzing with students carrying coffee, instruments, textbooks, pizza slices from Common Hour club meetings, etc. The one comforting thing behind this new normal is that we're all dealing with the uncertainty. To handle Zoom fatigue, I make it my goal to take a walk outside every day, even if it's just for 5 minutes. I've also started a small garden in my room to have some fresh herbs and extra plants to keep my room lively. Lastly, I've been trying out new recipes for fun –– I most recently made Kimchi Fried Rice!
Most importantly though, I've been very gentle with myself and I encourage you all to be too. The world is super weird right now and if you were not as productive today as you would've liked, forgive yourself and try again tomorrow. We'll get through this!
What are you doing to stay involved in the Stern and NYU community even while we're in remote/blended classes and can't gather in person?
Being the Class of 2021 Vice President in Stern Student Council (StuCo) is how I have been staying connected to the NYU community. Not only do I get to host events for my classmates, I also get to participate in the Health and Wellness Committee and in the mentorship program. The weekly Tuesday meetings cover great topics from leadership development to culture at Stern and help to build a tight-knit community where students can get their voices heard. Everyone is welcome to join!
Aside from StuCo, I have been joining online residential hall events in Gramercy Green, mentoring in the Academic Achievement Program, and hosting my own Waffle Wednesdays in honor of one of my favorite Stern events. 
What keeps you grounded?
My older sister, Parbs, who graduated from Stern in 2019. Even when I was just a few days old, she wanted to help my mom take care of me. While I spend a lot of time being silly and annoying her (what are younger siblings for?), she has constantly pushed me to be a better me and I wouldn't be who I am today without her. Don't tell her this but, she's one of my biggest role models.
Where is the coolest place Stern has taken you, whether here in the city or globally?
Costa Rica! I took a course during my sophomore fall semester called Social Impact Consulting in Costa Rica with Professors Tensie Whelan and Rachel Kowal. We worked with a small educational farm named Finca Educativa Don Juan in La Fortuna to help them develop their sustainability program with a goal of increasing tourism. Beyond the consulting project, we built an amazing relationship with the owners and workers at the farm –– they taught us how to use a wooden stick to catch fish, how sugar cane is juiced, and even how to make a traditional Costa Rican meal for our classmates! We learned a ton from the local community and got to see firsthand why Costa Rica is a global leader in sustainability.
What are some professors/classes that most had an impact on you in your time here?
A c;ass called Hearing Difference: The Commercial Music Industry and the American Racial Imaginary was one of the best classes I took at NYU. Taught by Kwami Coleman in Gallatin, this course helped me understand how race is embedded in American music culture from the Fisk Jubilee Singers to Elvis Presley to Drake. We tackled huge topics such as cultural appropriation, protest and resistance, racial stereotypes, and authenticity. This course contextualized the music I listen to every day and equipped me with the tools to think critically about the arts I consume. 
Where's your favorite place in the city and why?
My favorite place in the city is a Guyanese bakery called Sybil's in Richmond Hill, Queens. Usually, people are packed in the store like sardines because the food is just that good. Everything from the jerk chicken to salara (a coconut bread roll) and sorrel is bursting with flavor. If you're ever interested in trying Guyanese food and getting out of Manhattan, I'd totally recommend you go to Sybil's.
What are you excited about right now? Stern or non-Stern related.
In the immediate future, I am excited about spending the holidays with my family. It's one of my favorite times of the year and it will be great to decompress after this semester and, even more so, this insane year. In the long-term, I am excited to see how I will grow in the next year. While thinking about graduation is bittersweet, I can't wait to have new experiences, meet new people, and find new hobbies post-graduation.
What's your best-kept secret/something others wouldn't expect/ don't know about you?
I grew up listening to a lot of '60's and '70's country artists such as Conway Twitty, Charlie Pride, and Lorretta Lynn. My dad played these bluesy old tunes every Saturday morning while my mom fried bake and saltfish (a traditional Guyanese breakfast) for me and my siblings. While I love today's hits, I turn to these songs when I want to be close to home and need a soulful pick-me-up. 
As a senior, what words of encouragement do you have to underclassman as they navigate their college experience? 
Don't fear failure, be terrified of regret! This is something I wrote on a post-it note a few months ago and keep taped on my desk. There have been countless times where I felt I shouldn't apply to a job or go after something I really wanted because I feared hearing the word "no." I learned that I was letting the opportunity for so many yeses slip through my fingers and I was selling myself short. To any underclassmen reading this, put yourself out there, welcome all the no's you will get, and work hard for what you want!