Humans of Stern: Daniel Fang (BS '19)
—
Thomas Khadoo (BS '21)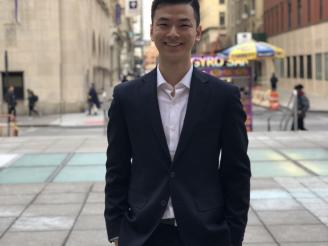 Name: Daniel Fang
Year: Class of 2019
NYU Activities & Involvement:
NYU Ballroom and Latin Dance Team
,
EmpowerED Consulting
What brought you to NYU Stern/NYC?
NYU and New York City as a whole is a very active environment, where there are countless opportunities, and that's why I came here from Australia. I'm here to learn from classes, from work, from meeting people, and from living on the other side of the globe. What interests you, inspires you, what are your goals? People and organizations interest me. If you think about how humans have come together to make society into a giant, functioning beast, it's just incredible. There's a fantastic podcast called 'How I Built This' and it features Guy Raz interviewing people from all different backgrounds who have founded incredible companies and organizations – such as Wikipedia, Dell, Ben & Jerry's, Chipotle, Patagonia, Instagram, Teach for America, Home Depot, Reddit, and more. These success stories inspire me to believe in myself, and have taught me that everyone has the ability to build something meaningful.
You founded a nonprofit, EmpowerED Consulting. Can you tell us about it? What inspired you, how it got off the ground, what your objectives are?
EmpowerED Consulting's mission is to empower college students to impact educational equity through consulting. We pair NYC nonprofits committed to educational equity with teams college students to work on semester-long consulting projects. At the end, we deliver reports, presentations and implementation plans. This semester we have 11 nonprofit partners and more than 60 members.
From the beginning, EmpowerED had the philosophy that everyone has something to offer. We found that many of our classmates were passionate about educational justice but didn't have the avenues to make a difference. We realized that through student consulting, any college student from any major or background could contribute their unique skills in a purposeful way. As its co-founder and co-president alongside my friend Anna Sang, I hope to share our values, knowledge, and passion for educational justice among our generation of college students.
What got you interested in this issue of educational equity?
I love to teach and I used to mentor high school students in West Philadelphia, and the statistics about educational inequity are something I still struggle to comprehend. For me, understanding the educational equity issue can be divided into understanding the real experience of being neglected by the education system, as well as recognizing the scale of the issue and its systemic roots.
I think Jamie Dimon, CEO of J.P. Morgan, describes it perfectly: "We are creating generations of citizens who will never have a chance in this land of dreams and opportunities."
How have you applied what you learned in the classroom to address educational inequity?
At NYU Stern, we learn about the many ways that businesses can be more efficient, and the
social impact curriculum
teaches us how our business knowledge can also be applied to social objectives. Education non-profits, like any other organization or business, can improve operations to more effectively educate and serve students.
Stern's Social Impact Core was an interesting topic for me because it explored the intersection of business and social good. My key takeaway from those classes is shared value: if we can make social impact strategically valuable and profitable to a business, doing good becomes economically sustainable. EmpowerED's model is akin to shared value. Non-profits gain meaningful and valuable advice, and students gain professional experience consulting closely with education nonprofits. And at the end of the day, it's incredibly rewarding to be united in making a difference.
What advice do you have for students who are interested in consulting?
Your first goal should be to figure out whether consulting is a good fit for you. There are so many people at NYU you can talk to about consulting (including your
peer mentors
and myself)! Just reach out, mention that you want to learn more about consulting, and nine times out of ten they'll be able to share advice. When you're ready to dive a little deeper, get involved with the consulting clubs on campus or internships.
Management Consulting Group
is probably a good place to start. Where's your favorite place in the city and why? I love Battery Park at sunset. I'm from Sydney, so I'm a big fan of harbors, scenic views, and sunsets. It reminds me a little bit of home.
Do you have any message you want to get out there before we wrap up? What impact would you like to have at Stern during your time here?
I know that it can be scary not knowing what you want to do. I know that it can suck not getting that dream internship or that club position you applied for. But just because we don't get into a ready-made opportunity doesn't mean there is nothing we can do. I believe that at NYU, you can create your own opportunities. But first, try out tangible activities, explore your boundaries and figure out what you want your impact to be. If you discover a passion, talk to other people about it and you will probably find people who feel the same. Strive to do the right thing, give your best, and learn. And as always, feel free to reach out to me or others for help!
There's a quote from Barack Obama that I like:
"Change will not come if we wait for some other person or if we wait for some other time. We are the ones we've been waiting for. We are the change that we seek."