Humans of Stern: Yasmeen Fathallah Rivera (BS '22)
—
Thomas Khadoo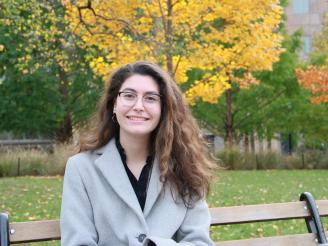 Name:
Yasmeen Fathallah (IG: @yasmeenfathallah)
Year:
Class of 2022
NYU Activities & Involvement:
- Project Outreach
- 
Reaching Out Mentor
- 
Model United Nations Crisis Analyst
What brought you to NYU Stern/NYC?
I felt that New York City would be the best place for me to develop academically, professionally, and socially. I felt that being in a fast-paced city would motivate me to be productive, and that the amount of opportunities available would encourage me to be adventurous. I was drawn to NYU Stern because I really appreciated their commitment to a maintaining a global perspective on business, and I wanted to absorb this same perspective into my studies and hopefully into my career.
You're in the Class of 2022, so you just recently did through Orientation this fall. You also happened to be in the West Village Cohort, this year's winning cohort in the Amazing Race challenge! What was your Orientation experience like, and what was it like to win?
Orientation Week itself was full of a lot of energy, but the Amazing Race was on a different level. Our cohort was so eager to win thanks to the amazing energy of our orientation leaders who really encouraged us to try hard, so I think that because all of us were focused on doing our best it was a great bonding experience for us all.
What has the biggest shock of NYC been?
Coming into NYC, I knew that it was a "fast-paced" city, but I didn't realize just how quickly it actually moved. Everyone is always on their way somewhere or working on some kind of project. At first, I was a little afraid of all the commotion going on, but I now find it motivating me to also be productive and look for something new to engage with.
What keeps you grounded here?
My friends here are so supportive both academically and emotionally, and of course constantly making me laugh. Being able to talk with them about what I find interesting and in turn learning from them makes NYC feel like home.
As a first-year, what's the hardest thing about being away from home?
It's been difficult to find time to talk to my family and friends from home because of work schedules or time differences. I also really miss being able to cuddle with my dog.
What is it you're doing here at Stern? What interests you, inspires you, what are your goals?
At Stern I'm looking forward to discovering which industry and track of marketing I am interested in pursuing. Each week I'm inspired by the energy and support that our student guides bring to Cohort Leadership Program and I look forward to having an academic career at Stern as enriching as theirs has been. Along with that, I have found the SternTalks to be really interesting; I enjoy listening to the advice alumni have to offer and am inspired by many of the stories they tell about their career paths.
You got involved pretty quickly in the Project Outreach Program. Can you talk a little bit more about what the experience was like?
Project Outreach has been one of my favorite experiences in college so far because it was so much more than just a service program. The discussions we had as a group made me think about why I was doing service and how the need for service was developed. I reflected on how I as an individual can make a difference not just through actual service but as a student who may eventually become a leader with the influence to make grand-scheme change. The program encouraged me to look at service, society, and myself through a different lens than I had coming into NYU.
What is your fondest memory from your year so far?
My favorite memory so far is from a few weeks ago when the weather was still warm, my friends and I went up to Central Park and rented Citi Bikes to ride around. Besides just having a lot of fun with friends, that day was one where I really felt like wow, I'm in New York City and I'm having a great time!
Where's your favorite place in the city and why?
I love the Strand Bookstore because it feels like a little New York City inside of one store. I really like reading, but have the college student budget, so the carts outside the store with $1 books are my favorite spots to pick up a new book that looks interesting.
What are you excited about right now?
I have just gotten my resume looked over by the Wasserman center and they deemed it ready to start sending out for internships, so I am very excited to start applying to internships for the spring and summer!
What interests you most and gets you excited? Stern or non-Stern related.
I absolutely love fashion and the creatives that drive the industry. You can catch me streaming the season's haute couture shows online or reading articles in Vogue anytime. I also think it is really interesting how
the fashion industry is, now more than ever, intersecting with popular culture and with politics.
If you could tell your fellow first-years one thing, what would it be?
I'm looking forward to spending the next four years together learning new things and following whatever path we are passionate about with the support of one another.