Humans of Stern: Jillissa Drayton (BS '21)
—
Interview by Thomas Khadoo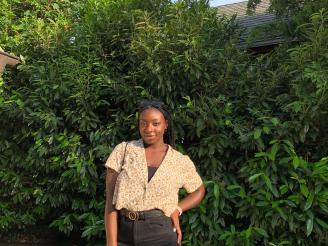 Humans of Stern is a series in which we meet the real people who study and work at the NYU Stern Undergraduate College. Today, we're excited for Jillissa Drayton (BS '21) to answer our questions about everything from her favorite classes and weekend activities, and her role with NYU Stern's Judiciary Committee.

Name: Jillissa Drayton
Fast Facts:
BS '21, concentrating in marketing and entrepreneurship
Two-year athlete on NYU's club competitive Cheer Team from 2017-2019
NYU Global Peer Mentor
Vice-Chair of the NYU Stern Judiciary Committee 

What brought you to NYU Stern/NYC?

I was born and raised in Queens, NY and I actually had no intention of going to NYU at first! I thought it was way too close to home to be any fun. But, as soon as I visited the school I fell in love. My interest was only augmented by the fact that I would be applying to such a prestigious program at Stern. I ended up applying with NYU Stern as my first choice, and as soon as I was accepted I had no question about where I would be going for the next four years.

How have your classes been?

Luckily, my high school self was right on point when she decided to study marketing! So, from day one I've been taking classes that I love. I've definitely had to take my fair share of classes I didn't exactly excel in *cough, operations management, cough*, but with tutoring and lots of late nights, I made it through! My favorite thing about my classes is that I really feel like they've prepared me to work in my field. I've had several internships and jobs over the past few years and although they've been scary at times, I've never felt unprepared, which is truly amazing.

What do you do with your weekends?

Actually, since we've gone remote I've made it a priority to go offline every Friday, Saturday, and Sunday. Since I started doing this, I've been able to make way more weekend trips to local places like Lake Placid, New Paltz, Philadelphia, and Long Beach Island! I love to hike, swim, and just be outside in nature. I've also started doing these elaborately themed spreads every weekend, so taking time to cook and try new things has been a new thing I've been enjoying!

What is it you're doing here at Stern? What interests you, inspires you, what are your goals?

I am double concentrating in marketing and entrepreneurship and minoring in producing for film at Tisch. I always knew I wanted to work in marketing upon graduation, but over the last few years, it has become exceedingly clear that I want to work in the beauty and wellness industry. After graduation, I'll be working full time at L'Oréal, which was a major dream of mine! I am inspired by things that make me feel good and for that reason, my goal in life is to do something that helps people feel good about themselves. That sounds really broad, but I see myself working and eventually having a start-up somewhere in the fields of beauty, wellness, fitness, and health.

What is your role with the NYU Stern Judiciary Committee and what kind of work do you do with them?

I am currently serving as the Vice-Chair on the NYU Stern Judiciary Committee. This means I work with the Chair and junior members to weigh in on any ongoing academic misconduct matters, as well as occasionally helping to create or edit University policies and procedures. 

We're all navigating a new normal with COVID-19: lots of Zoom time, social distancing, uncertainty, maybe loneliness. How are you coping?

The biggest thing that has helped me is setting very strict boundaries between my personal and academic/professional life. I schedule my days and outside of my work hours, I am committed to being unavailable and focusing on my well being and doing things that make me happy! I think this has been extremely important in not letting every day just feel like a blur of Zoom and work with no fun. 

What are you doing to stay involved in the Stern and NYU community even while we're in remote/blended classes and can't gather in person?

The biggest thing I've done is making an effort to keep in touch with and reach out to classmates. There are so many people I would normally see in the halls or on-campus that I realize I won't really see again, which is really sad! I've gotten over the awkwardness of just reaching out and I try to do it every so often just to keep those lines of communication open. Plus, you never know when someone might be battling loneliness during these times. Sending a random message can go a long way. 

What keeps you grounded?

Especially during this time when everything is so crazy and non-physical (as in, you can go a whole week just sitting at a computer and that would be considered normal), anything physical keeps me grounded. Things as simple as doing a quick workout or stretching or even applying moisturizer or applying a face mask after a shower does wonders for keeping me rooted. They are very simple things that have made all the difference.

What is your fondest/best/favorite/most interesting/etc. memory so far during your time here?

It's so hard to choose just one! I think going to Daytona with the NYU Cheer team during my freshman and sophomore years are among the best memories I've made here thus far! It truly felt like a movie being on the beach with some of my closest friends doing a sport that was still so incredibly new to me–it was so incredibly challenging but fun. I wish I was able to continue cheering, but I still have the most amazing friends from the team that I keep in touch with and see pretty regularly.

Where is the coolest place Stern has taken you, whether here in the city or globally?

Madrid! I was able to study abroad during the fall semester of my sophomore year and it was insane. I had visited Madrid once before and fell in love, so visiting again and this time for a whole semester was a dream come true! Being able to study the language while completing my marketing courses and traveling the region during my off days was incredible. I wish I could go back now! 

Where's your favorite place in the city and why?

My favorite place in the city has to be the village. I grew up in NYC and I have such fond memories of wandering those streets as a teenager. Now being able to call it my home makes me love it even more! 

The zombie apocalypse is coming, who are 3 people you want on your team?

This is so hard! I would say my brother because he is an absolute genius and I would trust him to make our plan. Also, he played D1 football in college, so he's jacked enough to make me feel safe, haha. Also, probably Michonne from The Walking Dead because she's a badass and has the experience to survive. Lastly, I think Gordon Ramsey or some other amazing chef. I love food, and I think a really sad part of the apocalypse would be eating only canned food, so having someone who can be creative and make great meals in the middle of the world ending would be an ideal person to have on my team. 

What are you excited about right now? Stern or non-Stern related.

I'm excited for borders to open and for Coronavirus to be under control! I have so much on my senior year bucket list to complete before I start working full time and I'm excited to start checking those things off! The first thing is learning how to surf in Australia! 

What's your best kept secret/something others wouldn't expect/don't know about you?

I trained in classical ballet for 12 years! 8 of those years were at Alvin Ailey American Dance Theater. I even got to meet Meryl Streep once when I performed at the NYC Mayor's Arts and Culture Awards when I was 12!