Humans of Stern: Samantha Zhong (BS/MS '22)
—
Interview by Nancy Jimenez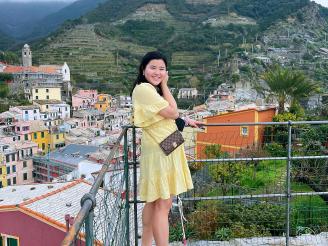 Humans of Stern is a series in which we meet the real people who study and work at the NYU Stern Undergraduate College. Today, we're excited for Samantha Zhong (BS/MS '22) to answer our questions about everything from her favorite classes and weekend activities, and her most memorable moments at NYU Shanghai. 

Name: Samantha Zhong
Fun Facts:
Teaching fellow for Organizational Communications and its Social Context, Global Marketing Strategy, and Entertainment & Media Industries
President of Stern Accounting Society
Co-Leader of BS/MS Community Group
Workshop Chair for Beta Alpha Psi 
What brought you to NYU Stern/NYC?

I knew from the start that I wanted to be close to home! I went on a couple of on-campus tours, and NYU Stern was the only one that stood out to me. I thought the 4.5-year BS/MS in Accounting Dual Degree program would be a great investment and opportunity to earn two distinct degrees and be a part of a wonderful community!

How have your classes been?

My schedule is pretty dense this semester with core concentration courses, teaching fellow responsibilities, and club leadership roles. Although the courses are sometimes challenging, they are nonetheless a great learning experience! This semester, I am taking Advanced Managerial Accounting which I've learned a lot from as part of my BS/MS in Accounting Major, but my favorite courses have come from the marketing department as I am also a marketing major!

What do you do with your weekends?

On my weekends, you will usually find me walking around the NYU neighborhood or exploring different food places in the area. I really enjoy trying American/Italian/Australian cuisine as well as window shopping in Soho. 

What is it you're doing here at Stern? What are your goals?

A few years ago, I would have said my goal was to graduate from NYU Stern, become a licensed CPA, and secure a full-time job. But now, although I would still like to accomplish all of these goals, my biggest goal is to explore different industries and career paths. I've learned that it is important to be open to diverse opportunities because you never know what you can do or achieve until you try it.

What keeps you grounded?

My parents and friends do! I suffer from post-exam anxiety. It worsens when I feel like I have underperformed. In those moments, I turn to my parents because they always know the right thing to say and make me feel like I am capable of bouncing back from anything. Aside from my parents, I also turn to my friends when I feel mentally and emotionally drained. Their encouraging words and understanding have brought me comfort and immense support throughout my journey here at Stern.

What is your fondest/best/favorite/most interesting memory so far during your time here?

My favorite memories come from studying abroad at NYU Shanghai where I created lots of close bonds. One of my favorite moments there was when I went to a school-sponsored cooking event with a few of my peers at the start of the semester. It was a very cool bonding experience, and the first time I ever got to cook my culture's cuisine! 

Where is the coolest place Stern has taken you, whether here in the city or globally?

Aside from the cooking events in NYU Shanghai, I also got the chance to travel to the Jiuhua mountain. It was a rich, artistic, and cultural experience. As the bus drove further up the mountain, the sky became foggy, but the view was still amazing. Everyone felt at peace. When we arrived at the top of the mountain, we were asked to write a poem. The funny thing is that we all wrote about the fog–the foggy sky seemed to turn us all into poets! We also got to hike the mountain, which was a unique and challenging experience!

Where's your favorite place in the city and why?

My favorite place in the city is Two Bridges, a neighborhood in lower Manhattan between the Manhattan and Brooklyn Bridge, because very few know about it. It is quiet and peaceful. I used to go a lot as a first-year to escape all the madness and hustle and bustle of NYC.

The zombie apocalypse is coming, who are 3 people you want on your team?

John Wick, Harry Potter, and Wonder Woman! I think John Wick would probably take on all the zombies without needing help. I mean his catchphrase, "Whoever comes, whoever it is…I'll kill them. I'll kill them all" speaks for itself. Harry Potter has mystical powers which I think can come in handy. And, finally I chose Wonder Woman because why not, she is amazing, and we would probably make a powerful team–girl power for the win! 

What are you excited about right now? Stern or non-Stern related.

I am really excited for the future. I just came back from Italy last night where I booked a bunch of group tours meant for solo travelers and loved it. I can't wait to book more solo trips to Spain, Tokyo, and several other places. I've also gotten to see Moulin Rouge, Dear Evan Hansen, Mrs. Doubtfire on Broadway, and the Rockets in the city through the Stern CACE program! And, I am hopeful that I'll get tickets to Hamilton the musical soon!

What's your best-kept secret/something others wouldn't expect/ don't know about you?

I have a food blog on Instagram that not many people know about. It is penguin-themed because I love penguins. I created it because I love connecting with other people who love food as much as I do!


Rapid Fire Questions
What emoji describes your Stern experience? 

The fun, goofy emoji with its head tilted and tongue sticking out!

Best advice from an NYU professor?

"Don't set high expectations because expectations are resentments waiting to happen. Good things come from the unexpected!"

Coolest project you've worked on? 

Twitter Project for Consumer Behavior with Prof. Jared Watson! For this project, we had to choose a topic of our liking and create related tweets to attract Twitter users, in my case, Minecraft fanatics, and increase engagement. 

Stern lounge or Bobst library? 

Bobst library!  

Favorite stress-relieving activity during exams week? 

Netflix!

Short piece of advice for future Sternies?

Don't let the expectations and opinions of other people affect you. Everyone's career and life journey is different. Do what matters most to you, focus on yourself, and don't get lost in other people because your reality depends on it!