Humans of Stern: Parbs Anant (BS '19)
—
Interview by Thomas Khadoo (BS '21)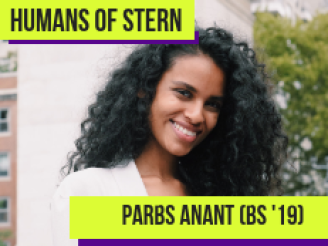 Name:
Parbs Anant
Year:
Class of 2019
Areas of Study:
Economics, Minor in Postcolonialism
Instagram:
@parbs_anant
NYU Activities & Involvement:
Stern Student Council President
NYU Leadership Initiative
What brought you to NYU Stern?
The application process was a very difficult time for me because I was the first in my family to apply for college. Just to put things into perspective, when I got into NYU and I told my parents, the first thing they said was, "What's NYU?" Much of my navigation of the education system in America was just following the decisions of my peers who had help from their parents. I trusted that they had the right information and so I would apply to the schools they applied to.
I'm from New York City, and here, you apply to get into high school. I was lucky enough to be accepted to Townsend Harris High School, which ranks in the top 50 high schools in the nation. At Townsend, I was surrounded by intelligent students and faculty who, through day-to-day conversations and interactions, showed me a world of opportunity that I never knew existed when growing up. NYU Stern was a school that lots of students worked hard to get into and I remember one day sitting in my counsellor's office and telling her that I was going to apply. She replied saying that I should try for something "more within my target."
To quote Michelle Obama,
"The one way to get me to work my hardest is to doubt me."
So NYU Stern became a dream I had to achieve in order to prove her wrong and everyone else who doubted my ability. I am incredibly grateful for the doubt my counselor had in me because if it weren't for her, I wouldn't be at such an incredible institution.
What is it you're doing here at NYU Stern? What interests you, inspires you, what are your goals?
I would not be who and where I am today without the mentors and sponsors who have guided me these past years. Beyond getting a job and beyond getting a degree from a top tier business school, I am here at Stern to give back and to keep the door open for those coming behind me. A community is built from selfless contribution and there are so many people who have given me their time to help me in whatever aspect they could. They didn't do it because they wanted something in return or because they had to; they did it because they realized the importance of giving back. I hope to do the same for others and to inspire my peers to invest in other people because when our peers grow, so do we.
As a first-year student, what was the hardest thing about being away from home?
I miss my Mom's cooking so much! Growing up I would always want to eat out or order pizza and never want to eat home-cooked food. I was so excited when I got to NYU to eat as much junk food as I wanted. However, dining hall food lost its glamour too quickly and even Joe's pizza couldn't satisfy me the way traditional Guyanese food does. The one way my Mom gets me to go back home is by cooking all my favorite foods because she knows how much I miss it!
What do you do with your weekends?
Whenever I'm not working on extracurriculars or homework, I like to get out of NYC. Growing up I told myself I would never leave New York and I would always think living in the suburbs was the worst possible thing because of how boring I thought life would get. Any opportunity I have now to get out of NYC I take because sometimes you need a breather from how fast-paced life in a big city is. New Hope, Pennsylvania is one of my favorite places because it's about an hour train ride and it's a little quaint town with lots of fun things to do. I usually go here on my weekends or take a trip a back home to Queens.
What is one thing that people don't know about you?
I worked at the oldest operating theater in NYC my freshman year. It was an off-Broadway theatre called the New Victory and I worked there my senior year of high school as an usher. This was the biggest reason I wasn't involved on campus (I went to one StuCo meeting and it was the last one!) because I would go to class and then work in the afternoons and on the weekdays. It was great because I got to see a lot of amazing shows for free and it gave me a stream of income that I was proud to have because I worked for it.
What is like being the Student Council President, and what do you hope to accomplish?
I've been learning a lot about myself and about my leadership skills these past few weeks. The role is mostly about communication and team management which is something I didn't expect going in, but I think that these are extremely important skills to have. On a larger scale, I hope to create space for all students at Stern to be heard and to feel like they're part of a family. There are a select amount of students who have this privilege and I hope to have more meetings and events that draw in students who usually don't feel engaged.
What keeps you grounded here in NYC?
I have a younger sister who just started her sophomore year at Stern. Whenever I get too caught up in life, she's always there to remind me of who I am and where I come from and if words don't work, she has a compilation of embarrassing screenshots and photos of my puberty days.
What is your fondest/best/favorite/most interesting memory during your time here?
Participating in the International Studies Program competition and then winning it was definitely the most surreal moment of my experience at Stern. From the early stages, my group and I were so worried that we wouldn't do well in the class because our professor shot down every idea we proposed and we were way behind the other groups who already had everything together. I always look back at the memory and laugh because not one person had faith that we would make it that far; we were definitely the underdogs. Each step of the competition was a surprise for us because we didn't think we would make it onto the stage in Skirball and I was beyond terrified to present in front of our entire class and all the judges. However, it worked out and it was just a lot of fun because I got to travel to Hong Kong and work with all my close friends through ISP.
Where's your favorite place in the city and why?
Jackson Heights, Queens is hands down one of the most interesting and diverse neighborhoods in the world. It's truly a melting pot with people of Indian, Tibetan, and Latin American culture. The street fairs they have throughout the year has some of the most amazing (and affordable) food that you'll ever try and you'll meet people from all walks of life. I highly recommend anyone who visits New York to take a train over for the day.
What's your favorite food/place to eat?
Aside from Caribbean food, I love anything that's really spicy! My favorite place to eat near campus is Burgers by Honest Chops on Macdougal street. My order is their classic burger with a side of truffle fries and a root beer.
What are you excited about right now?
I am really excited about all the growth I will experience in the upcoming year both personally and professionally. Reflecting back on my past years at Stern, I realize that each year has marked a significant change in how I see my place in the world. I am excited to continue tackling life's big questions and seeing how the experiences I have this upcoming year will shape me.
What advice do you have for underclassmen?
80% of success is showing up! Putting yourself out there is one of the hardest things to do initially but once you get in the habit of it, life becomes a lot easier. I am so grateful for all the people who pushed me to get involved and to "show up" because I learned how to fail early on. College is a safety net so make sure that you take advantage of that!