Highlights from NYU Stern Undergraduate College Fall Community Events
—
Cassandra Bizzaro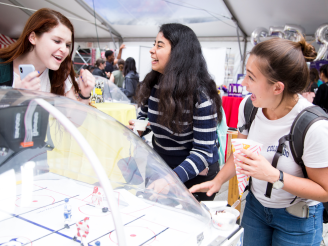 From prospective high school students to current students. From alumni to parents. From professors to industry professionals. Every fall, the NYU Stern Undergraduate College hosts a variety of events that highlight the vibrant community that makes us proud to say, "We Are Stern." Check out the photo highlights from this semester:
Block Party | September 13, 2018
Current students and recent alumni took over Gould Plaza for the biggest party of the year. The eighth annual Block Party featured all the best carnival food, instagrammable moments, and even a dunk tank with club leaders and orientation leaders that made new #WeAreStern college memories.
NYU Open House | October 22, 2018
Every fall, Stern leadership, staff, and current students host prospective students and their families at NYU Open House. Guests enjoy NYU tours with Admissions Ambassadors, residence hall tours, and admissions and financial aid overviews. Plus, prospective Stern students have access to guided Stern tours with the Stern Street Team, a group of dynamic undergraduate students who serve as the resident experts on what it's like to be a Stern student.
NYU Parents Day | October 27, 2018
NYU Stern parents were greeted by Dean Geeta Menon and Vice Dean Robert Whitelaw, as well as other Stern community members, and got a glimpse of their student's first-year experience with a mini-class session.
See Dean Menon's post!
NYU Stern Dean's Leadership Roundtable | November 28, 2018
As a part of the Dean's Leadership Roundtable series, Vice Dean Robert Whitelaw welcomed NYU Stern alumnae Ania Johnson (BS '14) to campus in an intimate luncheon setting to share career advice and insights on her role as Relationship Manager Associate at BlackRock.
NYU SternTalks | November 2018
First-year students explored how to find their dream careers in the third annual SternTalks series where stories were told by successful NYU alumni as a part of the Cohort Leadership Program curriculum. All current Stern students were invited to the industry talks featuring alumni from companies such as Google, NBCUniversal, L'Oreal, PwC, Spotify, Goldman Sachs, BlackRock, and more.
Check out more from SternTalks