Humans of Stern: Sweta Gangopadhyay (BS '19)
—
Interview by Thomas Khadoo (BS '21)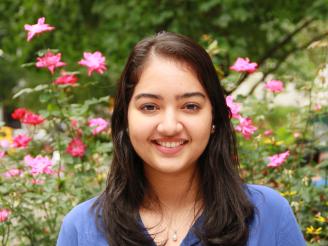 Name:
Sweta Gangopadhyay
Year:
Class of 2019
Areas of Study:
Econometrics & Quantitative Economics; Marketing
NYU Activities & Involvement:
What brought you to NYU Stern/NYC?
Having lived in big cities all my life, the idea of living in New York City for four years was too good to be true! And I'm glad I came because I've met some amazingly diverse people. Being an international student, I also wanted to ensure that I had a lot of exposure to people from different countries and backgrounds, which is why I chose NYU.
How have your classes been?
Since I'm studying econometrics and marketing, my classes are a good mix of creative and quantitative – just how I like them.
Where's your favorite place in the city and why?
There's a small park near my apartment which has a secret passage to a viewing deck on the FDR drive. It's amazing! You can see both Long Island City and Brooklyn from that waterfront, and it's perfect for a run, or even a place to relax and watch the water.
What's your favorite food/place to eat?
Being in New York, it's a teeny bit difficult to pick a favorite food or place, but for now it's going to be a cookie from Levain bakery uptown and a meal at Laut, a Singaporean restaurant up at Union Square.  
What are you excited about right now?
I'm really excited (and a little sad) about my senior year. There's so much I want to accomplish before I leave school, and I also want to make the most of my time here with my friends. So I'm just looking forward to spending my last year as productively as I can!
So, you're a peer mentor this year. Can you tell us a bit more about that: what it means, what inspired you to take on that role, how you hope to help students?
As a peer mentor, I try my best to help out students navigate life, classes, and recruiting across Stern. My motivation was to become a better resource to those students pursuing careers in marketing, an industry which may not always be as clear-cut as finance or consulting. I also want to be a friendly face for students, especially the underclassmen who may find it hard to navigate through school, given how daunting NYU can sometimes seem.
The word "recruitment" gets thrown around a lot. Can you tell us about what that actually means for marketing students – how the structure and timeline is different than others?
"Recruitment" or "recruiting" are both words that tend to create a lot of stress, but it shouldn't be a cause for concern if you're prepared and know what to expect. For marketing students in particular, there's no formal "recruiting" timeline because the industry tends to hire on a rolling basis depending on demand. As a general rule, most companies start looking for potential candidates towards the end of the year, with the bulk of recruitment happening in the Spring semester. The best thing to do is to look out for the companies you're interested in, and track when and if they're hiring!
Tell me about your experience as an international student and as a transfer student. What's it been like adjusting to New York, and to NYU Stern?
I transferred from CAS to Stern after my first year. As a transfer, I thought I was going to be out of sync with the rest of my class mostly because I didn't know anyone, but it was nothing to worry about! I've made some of my closest friends here, and the sense of community is definitely strong because it's a small school. And as an international student, I found it really easy to adjust to New York's pace, perhaps because this city is a melting pot of so many cultures and backgrounds.
What would you tell you first-year or second-year self?
Not to stress! Even though it may seem that there's a lot going on all the time it's very likely that most people are on the same page as you are. You may be meeting first-years and sophomores who seem like they have their lives figured out already and know everything about "recruiting." What's important is that you use your college experience to learn about yourself as a person and figure out what you want to do at your own pace!