NYU Stern Undergraduate College
Why Stern
Change. Dare It. Dream It. Drive It.
---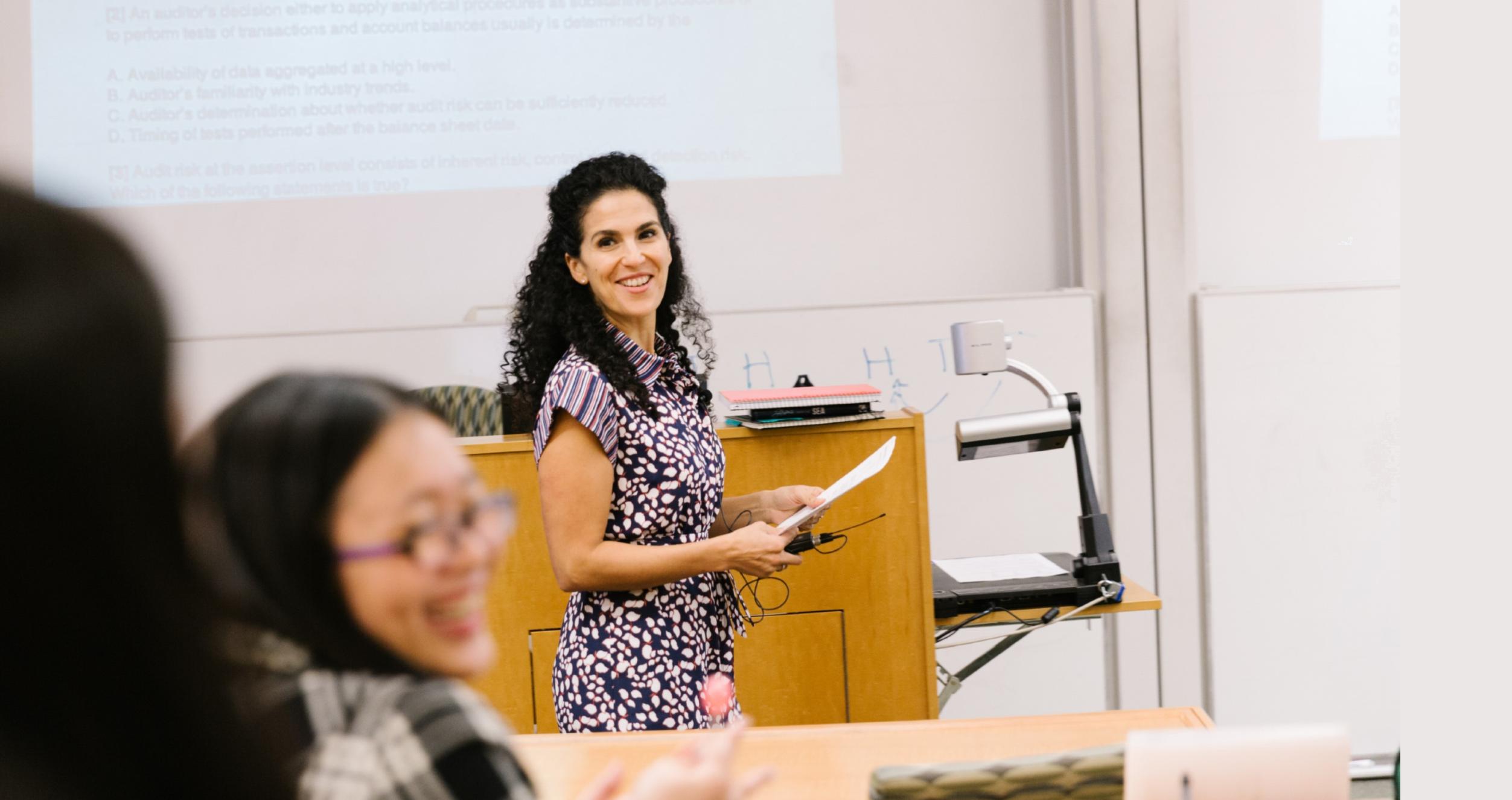 Undergraduate College Pillar
Academics
We take pride in our well-rounded education and approach our academics with honesty and integrity.
---
50%
Of Our Coursework is Grounded in the Liberal Arts
40
Average Business Class Size
Top-Flight Academics
A business foundation grounded in the liberal arts. Faculty at the top of their fields. A focus on social impact. Flexibility to pursue passions and see the world.

Through each of our five comprehensive degree programs, we are committed to providing you with an innovative and well-rounded business education rooted in the liberal arts. There is no one set path for a Stern undergraduate—you have the freedom and flexibility to explore several areas of business and to incorporate minors and additional majors from across NYU.
Academics at Stern
BS in Business
Our flagship program.
---
Choose from 12 Concentrations, 8 Interdisciplinary Tracks, and round out your degree with 44 Elective Credits. 
You also have the opportunity to start your first year in London.
BS in Business and Political Economy
Gain a unique global perspective that focuses on the intersection of business, economics, and politics.
---
Prepares you for a career in international business.
Two full semesters of global study at NYU's global campuses during your sophomore year.
BS in Business, Technology, and Entrepreneurship
Focus on the crossroads of business, technology, and entrepreneurship.
---
Gain the business and technology tools, and analytical and critical thinking skills, needed to lead multidisciplinary teams with creativity and know-how.  
Immersive courses in technology and entrepreneurship.
STEM Certified.
BS in Business/MS in Accounting
Earn both your BS in Business and MS in Accounting in only four years plus one summer.
---
Earn your Master's Degree concurrently with your Undergraduate degree in an accelerated time frame.
Allows you to apply for the Certified Public Accounting exam and earn the CPA credentials.
BS in Business/BFA in Film and Television
A five-year program that prepares you for an exciting career in the entertainment business.
---
Earn concurrent degrees from NYU Stern and NYU Tisch in five years.
Access the boundless resources of both world-class NYU schools.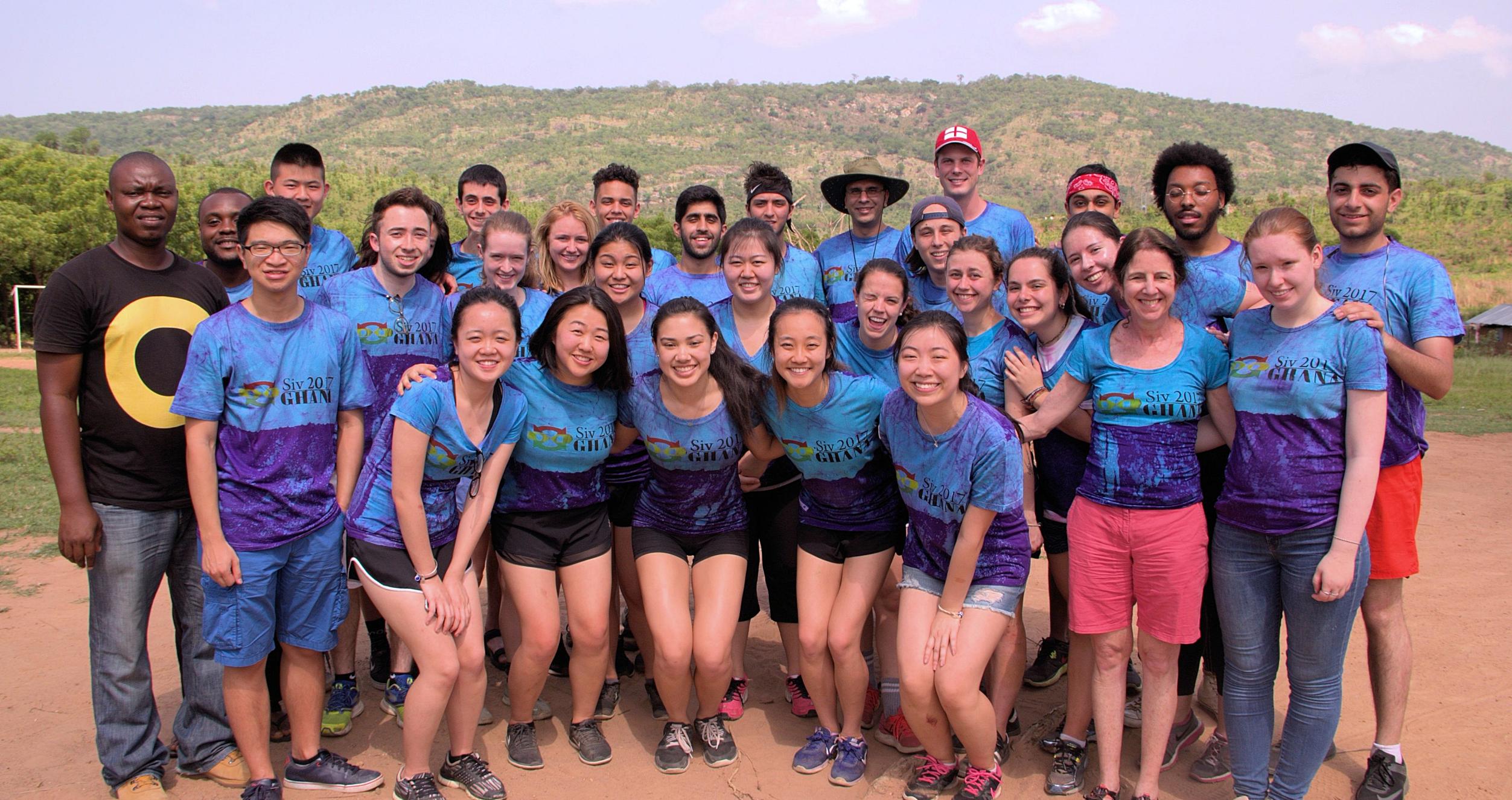 Undergraduate College Pillar
Social Impact
We're eager to use business to create a positive impact, and we take this responsibility seriously.
---
$409K+
Awarded in Social Impact Stipends since 2006
4
Required Social Impact Courses
2004
Year the Social Impact Core was founded
Make Social Impact
Every day, business shapes and impacts the world around us. We encourage you to think critically about its role in society and your influence as a future leader.

Stern Undergraduates are the future of business. Inside the classroom, you will take part in the groundbreaking Social Impact Core curriculum, recognized by the Carnegie Foundation for the Advancement of Teaching as a model for undergraduate business education. The Social Impact Core is a required four-year, four-course sequence designed to immerse you in the fundamental issues facing society, and how business, in concert with other organizations, can be used to solve them. In the Social Impact Core, you will take the following courses:
Business and Society
This course introduces you to the complexity of the relationship between business and other societal institutions. Through a series of eminent guest speakers and small group discussions, you will explore a series of global challenges through the lens of the UN Sustainable Development Goals (SDGs) and learn about corporate strategies that create sustainable value for society.
Organizational Communication and Its Social Context
This course focuses on the societal expectations that companies must address and helps you understand processes of influence and persuasion while gaining the skills required to communicate effectively with different stakeholders.
Law, Business, and Society
In this course, you will study the role of law in shaping and governing the conduct of business, and the role of commerce in our society.
 
Professional Responsibility and Leadership
This capstone course allows you to reflect on why you are embarking on a career in business, and how you intend to act as business professionals. You will think systemically about the risks and sources of resilience relevant to your professional life and cultivate the habit of engaging in reflective dialogue with diverse stakeholders.
Students who wish to explore beyond the core are also able to take additional social impact classes, participate in social impact-related student organizations, or pursue a concentration in Sustainable Business.
Social Impact at Stern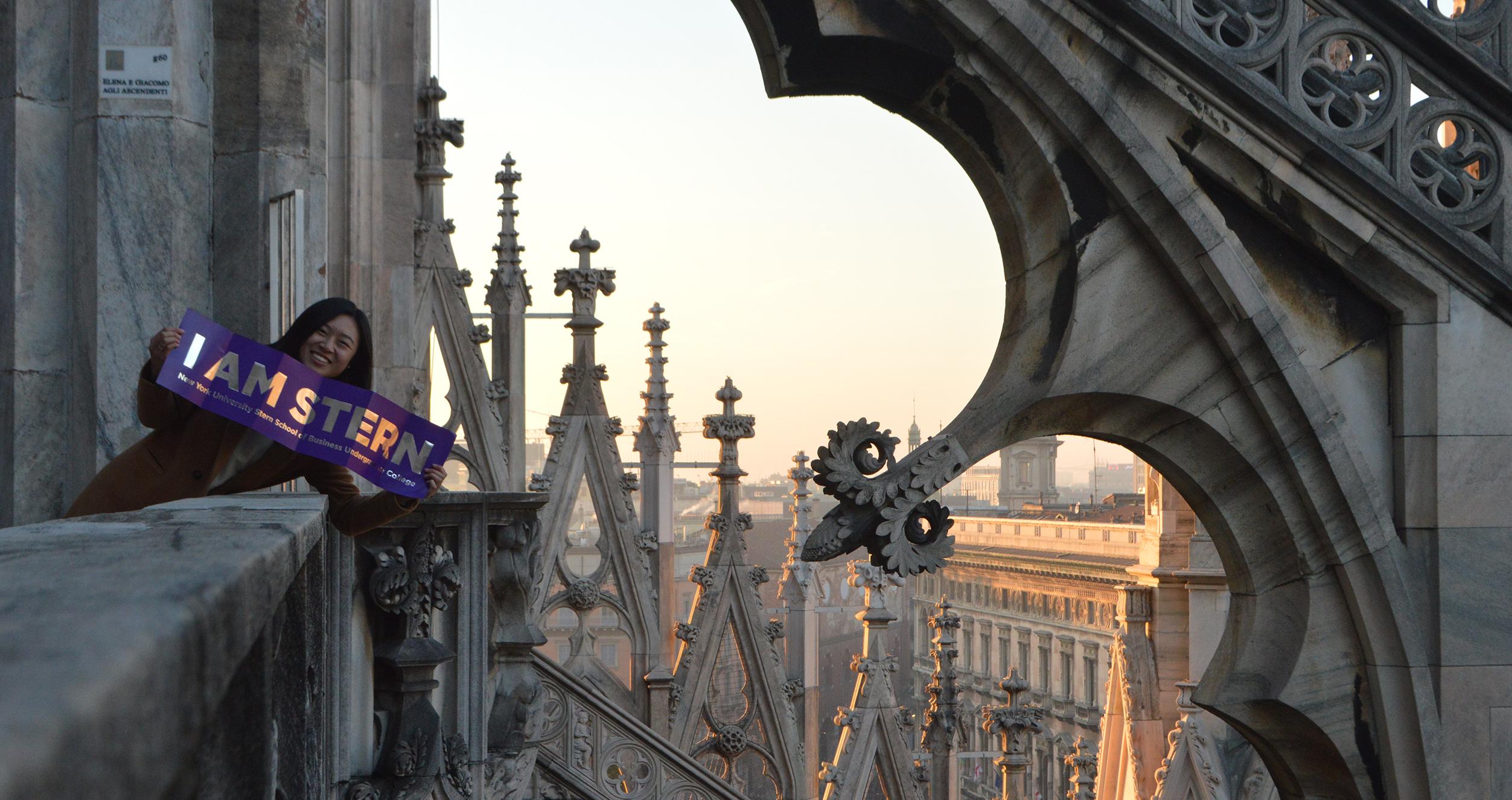 Undergraduate College Pillar
Global
We seize opportunities to expand our perspectives and serve as global ambassadors.
---
100%
of students will have a global experience
At Home, Across the World
No other business school does global quite like NYU Stern.

Here, you will explore the Global Business Core Curriculum—a unique module that brings different worldviews on business into perspective and provides a robust foundation in global business strategy. 
Global Experience Requirement
We value opportunities for our students to expand their perspectives and serve as global ambassadors. That's why our students are required to complete one Global Experience through select NYU and Stern programs. NYU Stern is committed to making a Global Experience accessible for all students with demonstrated financial need.
NYU Global Programs
Take advantage of the world's first truly global university. With NYU's 13 global academic centers and three degree-granting campuses spread all over the world, studying away has never been easier. You'll take NYU classes with NYU professors and earn NYU credits no matter which location you choose. This opportunity is open to all NYU Stern sophomores, juniors, and seniors.
International Business Exchange
Spend a semester studying at another one of the world's top business schools. With 17 partner schools throughout Europe and Asia, you can earn liberal arts and business credits while exploring a new intellectual and cultural environment. IBEX is exclusively open to NYU Stern juniors and seniors.
Short-Term Immersions
Stern's Short-Term Immersions combine semester-long coursework completed at our New York City campus with a short-term trip to a location in the U.S. or other country to enrich the academic experience. Recent courses have explored business and culture in Singapore, Costa Rica, and Ghana. 
Global Programs at Stern
Undergraduate College Pillar
Professional
We act with professionalism as we explore our interests and shape our future.
---
96.2%
Placement Within 6 Months of Graduation
$90,915
Mean Annual Starting Salary
Unparalleled Career Prospects
Explore diverse career paths and discover your dream career. We help you get there.
Here, you will have access to a vast array of resources to aid in your professional development and help maximize the truly unique opportunities that New York City has to offer. Our Professional Development & Career Education (PDCE) team works with faculty, alumni, and leading industry partners to develop programs that will help you explore career paths, prepare for recruitment and professional environments, and connect to Stern alumni and industry professionals. PDCE programs complement the career and recruiting services offered at NYU's award-winning Wasserman Center for Career Development. These two robust professional offerings, combined with the multitude of local industries, give you a unique and personalized career-building experience unlike any other.
Professional Resources at Stern
Undergraduate College Pillar
Community
We support each other and foster an inclusive community where everyone can grow and excel.
---
Vibrant Community
A business school with a tight-knit community, the resources of a big university, and the opportunities of a major city. Win-win-win.
We believe that all students deserve to feel a sense of belonging and encourage you to engage as your authentic self. We believe this is how students reach their full potential and that it builds a community that is as vibrant, passionate, and diverse as New York City itself. We offers a wide array of social programming that promotes student involvement within the Stern community as well as the broader NYU and NYC communities. There is ample opportunity to make new friends with your fellow classmates, develop meaningful relationships with faculty, and work with administrators and staff to get involved and explore new interests.
Community at Stern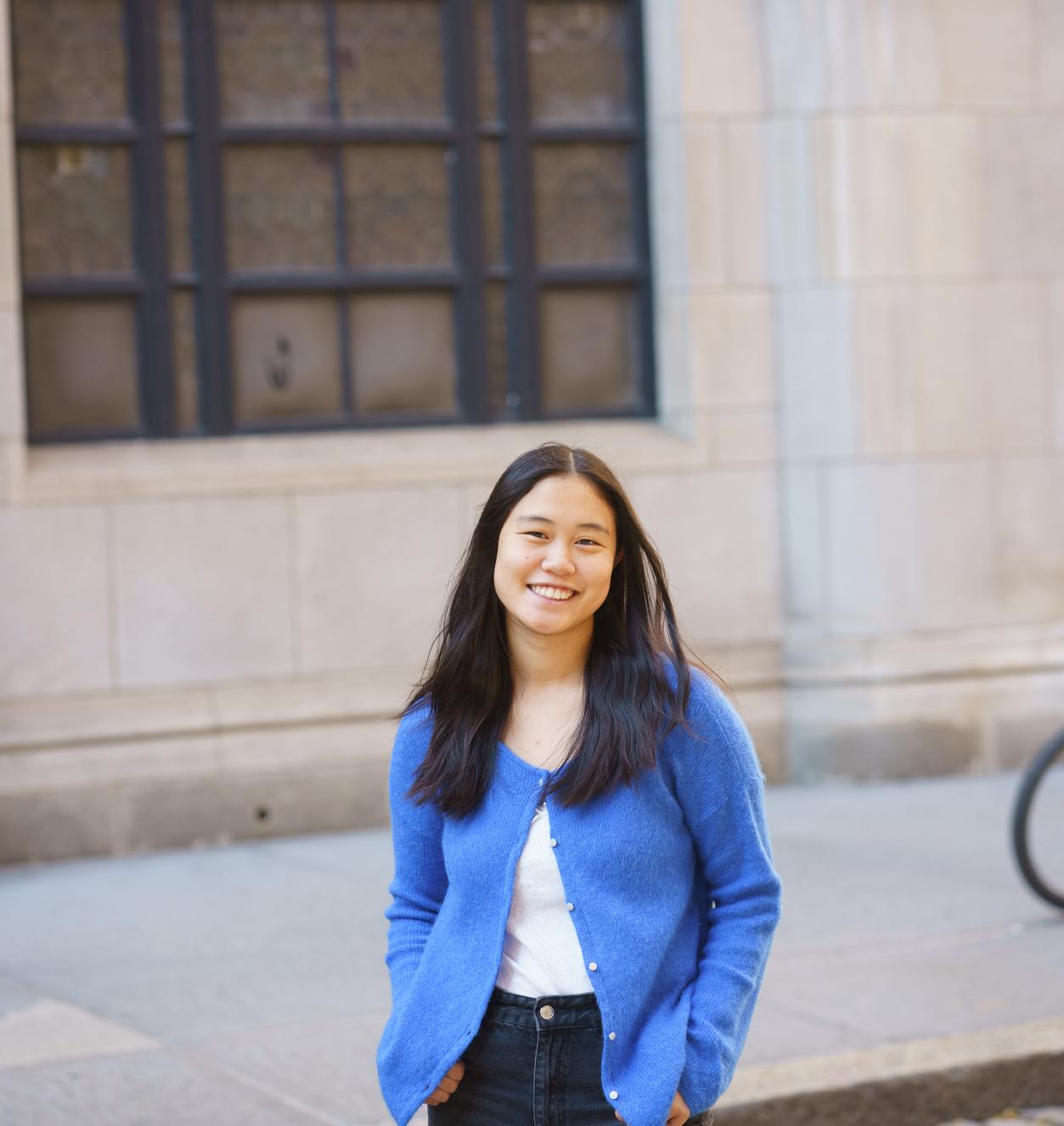 Katie Lin (BS '24)
"During my college search process, I found NYU Stern's dedication to Social Impact particularly unique. Ever since I came to Stern, the curriculum has transformed how I view business as a force of good and taught me how to harness business to solve the various social dilemmas and issues we experience today."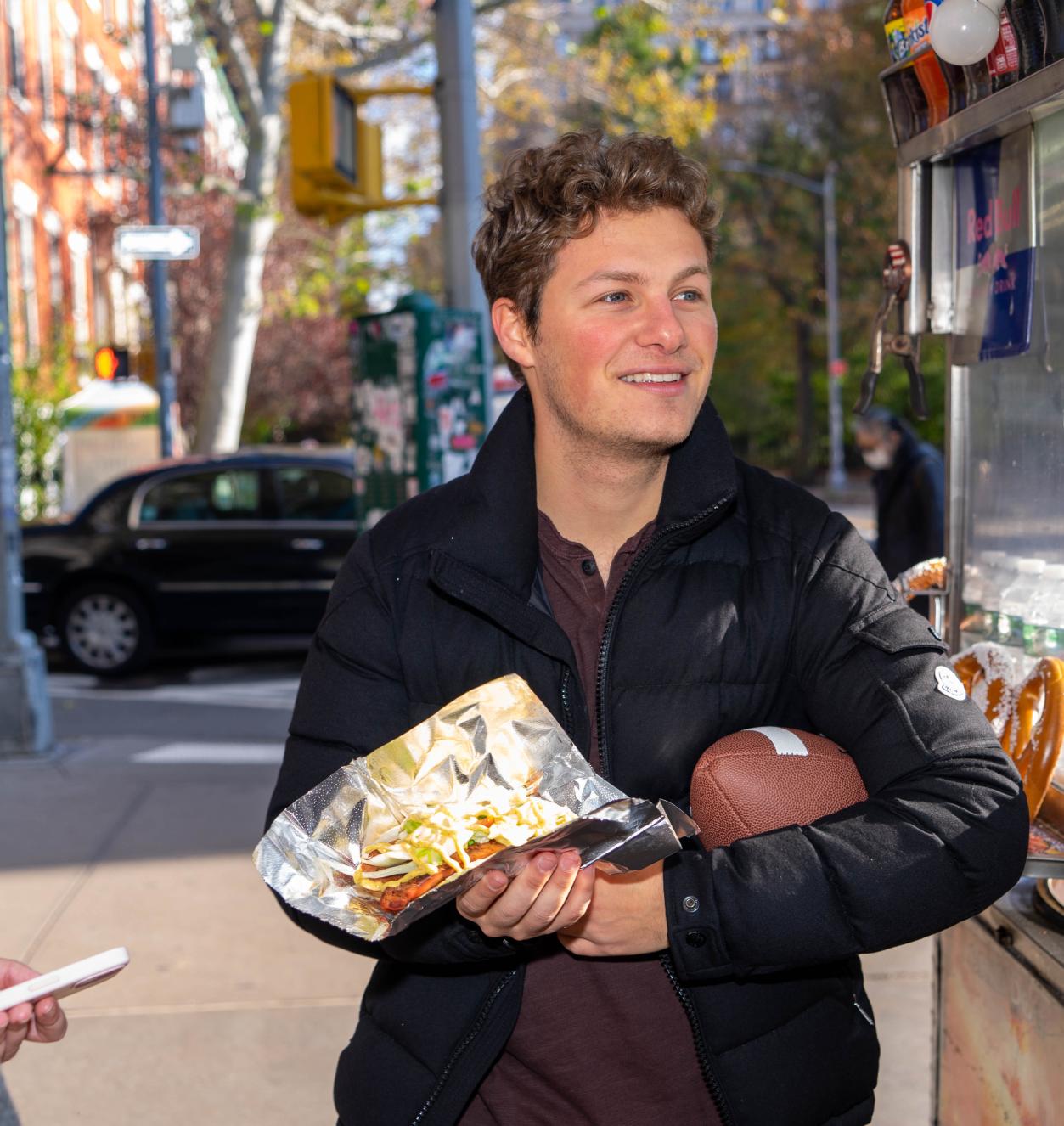 Josh Cohen (BS '24)
"NYU Stern has incredible global programs for students that want either a short-term immersion trip or a whole semester abroad. I'm very excited to be attending NYU Florence next semester to truly experience a different culture and professional setting than New York."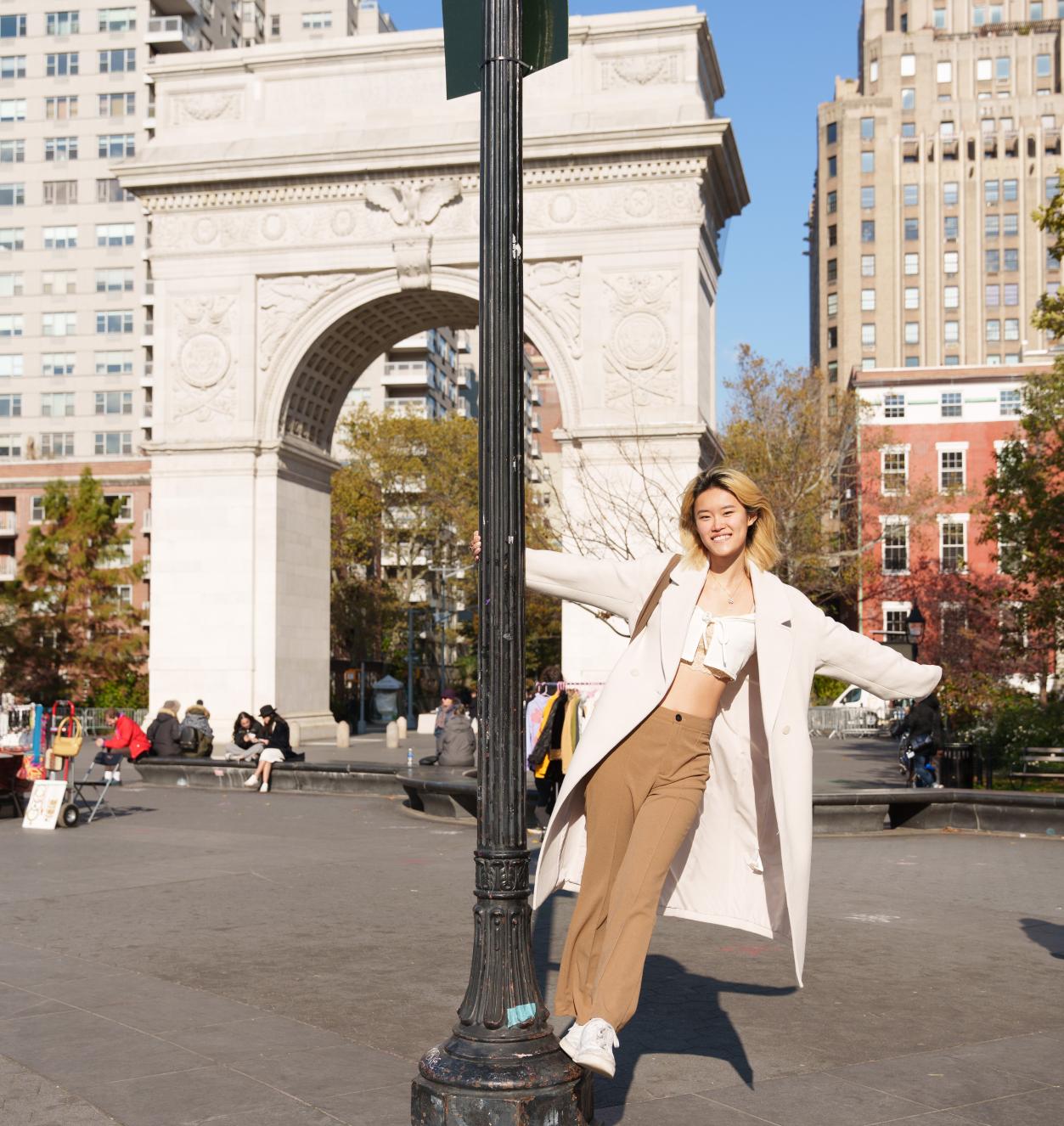 Lu Lu (BS '23)
"NYU Stern taught me how to form a holistic view of the pressing issues in our society today through the well-rounded Stern curriculum and elective space. This allowed me to pursue a joint minor in Public Policy & Management in Stern and Wagner."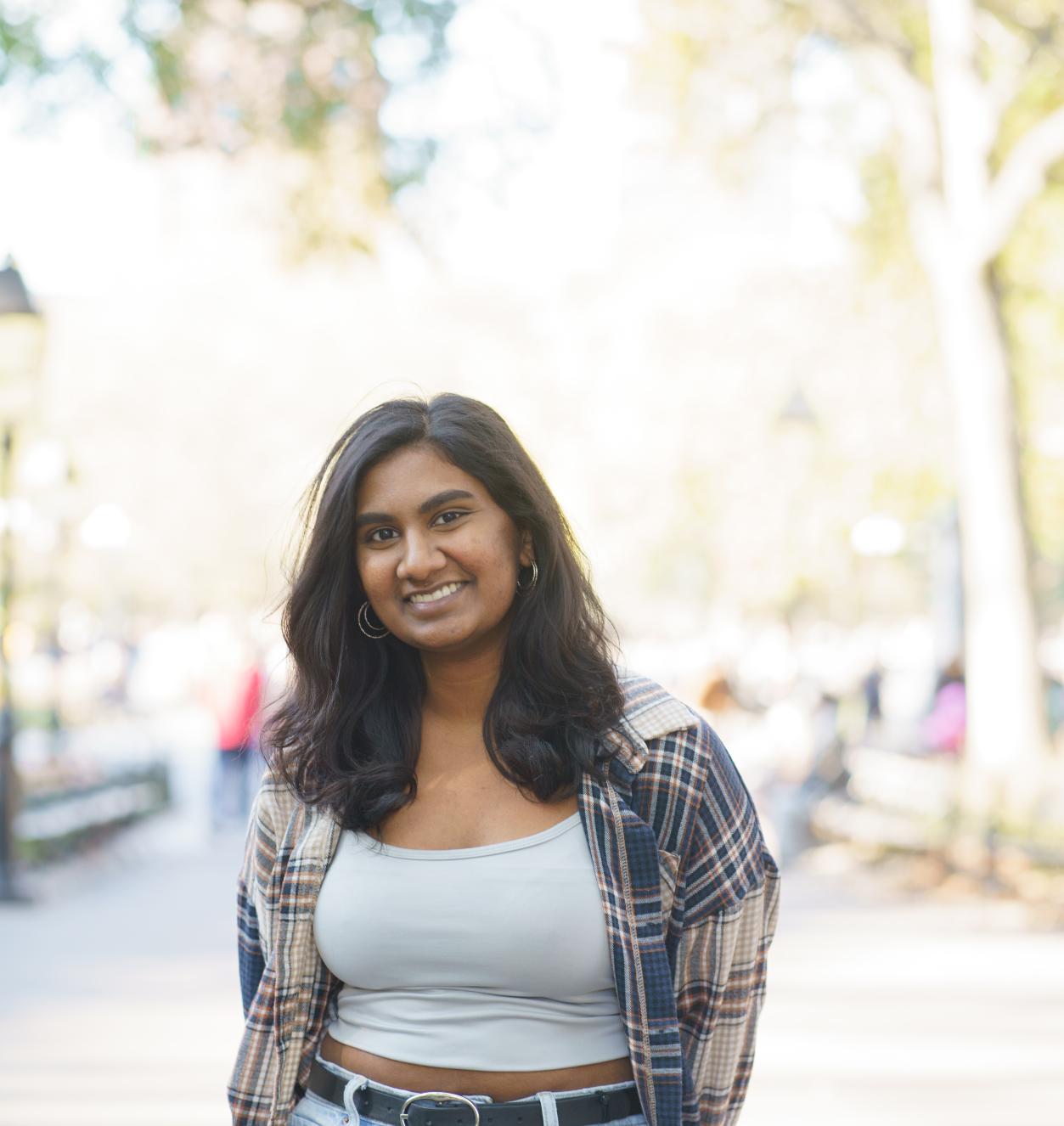 Sriya Yemireddy (BS '25)
"NYU Stern's emphasis on exploration allowed me to be able to try out different classes, study abroad at NYU London, and expand on my skillset. Through these programs, I am able to explore different areas of study and career paths."