Humans of Stern: Robert F. Whitelaw
—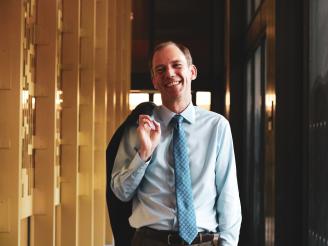 Humans of Stern is regular series in which we meet the real people who study and work at the NYU Stern Undergraduate College. Today, we're excited for Robert F. Whitelaw—who took the helm as Vice Dean of the NYU Stern Undergraduate College on June 1, 2019—to answer our questions about everything from his priorities for the undergraduate business program to his perfect day off. 

Name: Robert F. Whitelaw
Role: Dean of the NYU Stern Undergraduate College, Edward C. Johnson 3d Professor of Entrepreneurial Finance

What originally brought you to NYU Stern/NYC?

When I finished the Finance PhD program at Stanford GSB (1991), I was looking for an academic position. I wanted to find a Finance Department. that would provide me with the best opportunity to build my research career, with great colleagues, in a great location! Fortunately, NYU Stern had all of that, and I was thrilled that they offered me a position. I had worked in NYC 1984-86 at a large investment bank so I already knew what a great city New York is.

What is your fondest memory during your time at NYU Stern?

I have so many good memories from my more than 25 years at NYU Stern. Amazing interactions with students and colleagues, in an out of the classroom, in seminars, in the hallways. However, one of my most memorable experiences was my chance to speak at the Stern Undergraduate Baccalaureate ceremony in 2008 after I was chosen as Professor of the Year. Being selected was a great honor, but speaking in front of the graduating class, their families and friends, was a truly amazing experience. 

Where's your favorite place in the city and why?

This summer I discovered my new favorite place/activity in NYC – the NYC Ferry. It's ferry service to and from the Rockaways to Pier 11 near South Street Seaport in downtown Manhattan. If you time it right, you can ride the ferry during golden hour and watch the sun set as you sail under the Verrazano Narrows Bridge, past the Statue of Liberty and Ellis Island, with the Manhattan skyline in the background. Simply amazing, and at $2.75, the best deal in NYC.

What about on campus?

One place that I really love is Rosenthal Pavilion on the top floor of the Kimmel Center. At night, the views of the Empire State Building and the NYC skyline are spectacular, making any event there a major occasion.

Who is or what are the sources of inspiration in your life? Any mantras you live by?

It's a little bit of a cliché, but my parents have always been a huge influence in my life. In spite of various challenges and obstacles, their approach to life was always characterized by three things (1) risk-taking, (2) an attitude that the glass is always half full, and (3) a commitment to treat everyone with respect. Hopefully, that has rubbed off on me.
In terms of mantras, my current favorite is,"If you're not part of the solution, you're part of the problem." It reminds me to try to make "it" happen, do something, and take action rather than waiting for someone else to take the lead.

You've been a professor of finance for almost 30 years here. Can you tell us more about your academic interests and research? What's interesting or exciting to you right now in this area?

Over the years I've done research in many areas, from interest rate modeling, to the pricing and hedging of mortgage-backed securities, to the efficiency of the stock market, to exchange rate predictability. What these projects all had in common was an interesting, unanswered question or puzzle, and data that would allow me (and my co-authors) to say something new. 

My current research, which I'm really excited about, revolves around China's financial system and particularly the role of the stock market in real economy. China is incredibly important to the world economy, but it is understudied. Moreover, the unique institutional features of the markets make it a fascinating arena for research.

You've been in the Vice Dean role for more than a year now, and officially took over as head of the Undergraduate College as of June 1. What has that transitioned looked like to step into this role? Has anything surprised you?

My year as Vice Dean was a fantastic opportunity to learn more about the workings of the Undergraduate College, thanks in large part to my predecessor as its head, Dean Geeta Menon, and the fabulous team that she helped assemble. They have been a constant source of inspiration, information, and sage advice. As a result, my transition to the leadership has been pretty smooth. 

What has surprised me most is the scope of activities for which the Undergraduate College team is responsible. As a faculty member, or even a Department Chair—which I was for 8 years—you see only see part of the operation. Now that I see it all (or at least a large part of it), I'm even more impressed by the excellence and commitment of the team here. 

What's been your favorite aspect of working with students, either in the classroom or in your new role as Vice Dean?

I have been studying, teaching, and "doing" finance full-time for more than 30 years, since I started my doctoral studies. It may seem crazy, but I truly love it. One of the most rewarding aspects of teaching is passing on some of this passion and excitement to my students. As they begin to understand finance in a deeper way, I see a light go on, and they sometimes begin to see the beauty that inspires me. 

In a few sentences, what are your priorities as Vice Dean for the Undergraduate College?

- To continue to pursue curricular innovations to make sure we are providing a world-leading business education fit for the complex, modern world. 
- To continue to build a sense of community and belonging among all the diverse members of NYU Stern—students, staff, faculty, and alums. 
- To continue enhancing career paths and opportunities to meet the needs of our students and the evolving employer landscape.

What was your summer like as a dean?

During the school year, it's about constant movement, from classes, to meetings with fellow faculty, administrators and students, to events; responding to emails; keeping the trains running. The summer offers more time for thought and reflection. I got to work on my research, and engage in strategic planning for the Undergraduate College and the larger school. This summer, I also worked on two classes for the school's new online Master's program in Quantitative Management, which was both more interesting and more time-consuming than I imagined. 

What keeps you grounded?

My kids. To them, I'm "dad," not "professor" or "Dean." They value me for my actions, not my title.

What's your favorite place to eat?

I actually like to cook at home if I have the time, but my current favorite restaurant is Emporio, a relaxed and friendly atmosphere and great food. The Nutella calzone is not to be missed!

Where is the coolest place Stern has taken you, whether here in the city or globally?

One of the great things about being a professor is that I get to take sabbaticals on a regular basis and that as a professor at NYU Stern there are institutions all over the world that would be delighted to host me for a semester or a year. Traveling is great, but living in a foreign country is even better. I got to spend 9 months living in a village on the edge of the Fontainebleau forest outside of Paris, and 6 months living in Brisbane, Australia. These are experiences I would not have had were it not for Stern. 

Paint a picture of your perfect day off for us.

Sleep in; enjoy a leisurely breakfast (tea, fresh fruit, a croissant); then off to do something active (a bike ride, a walk on the Hudson); lunch at an outdoor cafe people-watching; a Broadway matinee; dinner at home followed by a game—anything from chess or bridge to board games like Settlers of Catan or Ticket to Ride.

What's something students wouldn't expect to learn about you?

My current appearance notwithstanding, I used to be a relatively serious athlete. I captained the rugby teams at both MIT and Stanford during my student years.

What has been the biggest lesson that you personally have learned in your time at NYU Stern?

Not to take myself too seriously. Education and research are serious endeavors, but a sense of humor goes a long way in making almost everything more interesting and fun.

Any final takeaways/thoughts for students?

We Are Stern!

Check out more Humans of Stern profiles on our website and go behind-the-scenes into the everyday lives of students, faculty, and staff by following @sternuc on Instagram.