Humans of Stern: Saichinmaya Satyasi (BS '21)
—
By Thomas Khadoo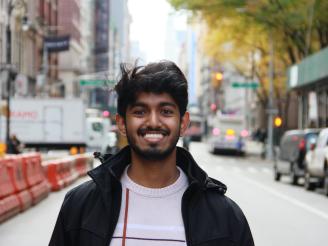 Name:
Saichinmaya Satyasi
Year:
Class of 2021
NYU Activities & Involvement:
-
Actuarial Society
-
NYU Community Orchestra
-
Beta Alpha Psi
On Social Media:
@saisatyasi on Instagram
What brought you to NYU Stern/NYC?
When I first heard of NYU, I wasn't sure what to expect; I had never imagined myself living in the city. However, when I attended Weekend on the Square, I found out that I could take advantage of all the resources and opportunities offered just by being in the city and part of Stern. It's great to know that I'm not limited by a closed campus at your typical college. Here I can do as many things I want. NYC is filled with a diverse people, and I love to meet people with different backgrounds. I won't be able to get these connections and experiences anywhere else!
What's the biggest surprise of NYC been?
The biggest thing I've noticed about New York City is that there is so much going on throughout Manhattan and the other boroughs. You can't possibly be bored here! In only a year and change, I've gone to Smorgasburg in Brooklyn, explored SoHo and Little Italy, and attended the Global Music Festival this year in Central Park, among so many other things.
What do you do with your weekends?
When I'm not studying, I love listening to music and playing my violin. When I have some free time, I like to hang out with my friends and get some bubble tea.
You have a really unique name. Could you talk a little bit more about what it means/where it came from?
So, my name is split up into two different parts: Sai and Chinmaya. Sai comes from Sai Baba, who was a widely revered satguru (or the true guru) by many of his devotees. He's pretty special, so sharing the first part of his name is a pretty big deal for me. Chinmaya comes from another guru known as Chinmayananda. Together, the literal translation of my name is "heart full of fun!"
What is it you're doing here at Stern? What interests you, inspires you, what are your goals?
I am here because I've learned much about the business program here, especially the top notch finance program, and initially wanted to be part of the banking industry. As my first year passed by, however, I learned that what I really wanted to do was being involved in Risk Management/Statistics. This is because I have friends who have supported me ever since I started my freshman year here. Since I am part of the Actuarial Society (a very niche community), those people have inspired me to keep doing something that helps you stand out amongst the crowd and something that you are interested in, not what everyone else is doing.
What's your favorite food/place to eat?
My favorite place to eat is 99 Favors on Grand Street. It's an all-you-can-eat Hotpot restaurant, and the food there is amazing!
Do you have any hobbies?
I have been playing the violin for more than 10 years, and right now I am playing in the Community Orchestra.I also love to draw, and I haven't gotten that many opportunities to do that here in the city due to my schedule. It's something that helps me de-stress and focus on my own thinking.
What is one thing that people don't know about you?
I'm a very open person; I really want to meet new people and make new friends. At the beginning of my first year, I was definitely hesitant to start a conversation with different people. As I got accustomed to the city and went to more events, I slowly got more friends and I eventually became part of a friend group.
Any final thoughts/things you'd like to say to your fellow Stern students?
As I learned from my Management & Organizations class, don't be afraid to talk to someone or initiate a conversation. You never know, you might meet the next Warren Buffett or Jeff Bezos.